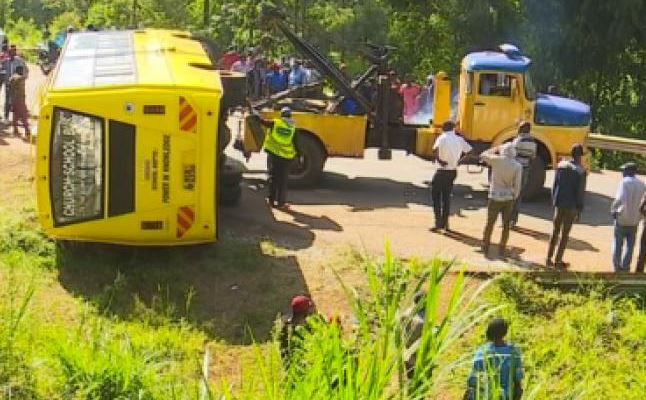 Twenty-six pupils of Kaaga Academy in Meru County suffered various injuries when their bus overturned on Thursday morning.
At least 26 children suffered various degrees of injuries when their driver failed to negotiate a sharp bend along the Kaaga bypass, as the children were being taken to school.
Tearful parents milled around school and the Meru Teaching and Referral (MeTRH) casualty section where the children and the bus driver were rushed.
MeTRH CEO Joseph Wahome said they received 26 injured learners at 8.30am, adding that 20 of them were relatively stable, as they had suffered scratches and minor bruises.
Read More
"Seven of them require a review, and another four need X-rays and scans. One of them had a broken arm and another suffered a head injury. They have post-accident stress but our psychologists are handling that," he said.
Speaking at the hospital after meeting parents and the health personnel, County Health Chief Officer James Kirimi said four of the children had to be admitted, as they needed treatment and further observation.
"One pupil will have to go to the theatre. We are grateful to the nurses, doctors and clinical officers who responded quickly," said Dr Kirimi.
County Base Commander Peter Wambua who visited the scene said the driver was unable to negotiate a sharp corner, forcing the bus to land on the left side of the road.
"It was a self-involving accident. The bus had 51 pupils on board. The wreckage has been towed to the Meru Police Station," said Mr Wambua.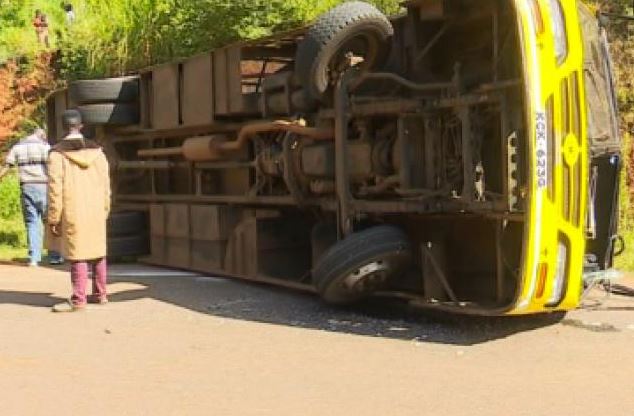 Judith Kaburu, the chairperson of the MCK Kaaga Church which shares the compound with the school, assured parents that the children were in stable condition.
But Municipality MCA Elias Murega appealed to the relevant authorities to install bumps and signages along the road which has numerous corners.
"The road has many bends but no signage. We need road signs and bumps installed to improve safety," Mr Murega said.