Kenya Army helicopter crashes in Masinga killing two soldiers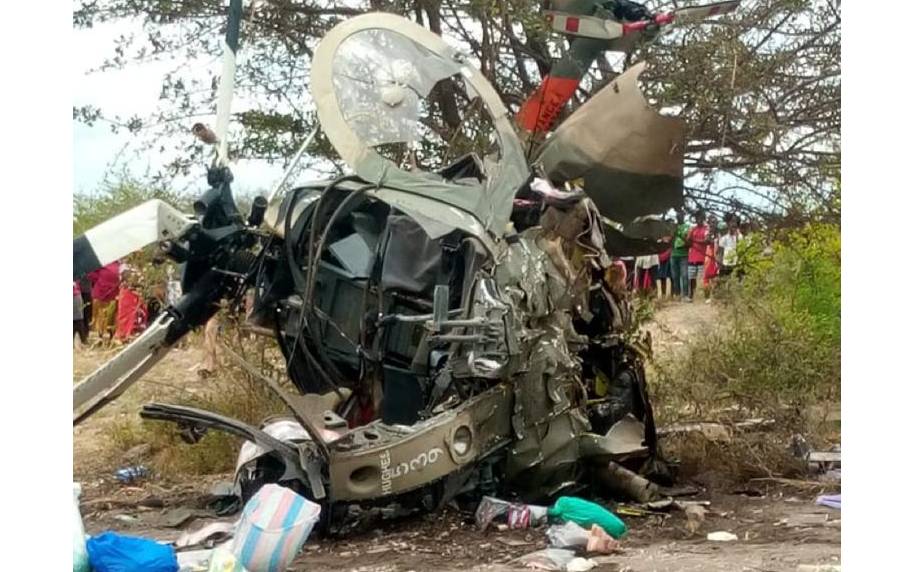 Two soldiers were killed on Monday morning when a Kenya Defence Forces chopper crashed in, Masinga, Kitui County.
The Ministry of Defence issued a statement over the incident saying the chopper was for training purposes.
"This was a training flight. Onboard were two pilots who have been evacuated from the crash site," read the statement from the ministry.
The US-made light attack helicopter gunship MD 530F crashed at about 10 am. The cause of the crash was not immediately established.
The chopper is among six US-made light attack helicopter gunships that the Kenya Army Aviation acquired in January this year.
They were part of an initial order of 12 light attack and reconnaissance helicopters meant to enhance the firepower of the Kenya Defence Forces in the wake of sustained attacks by Al-Shabaab militants.
The helicopters were acquired from the United States through the US Foreign Military Sales programme.
The MD 530F planes are part of the $253 million (Sh25.5 billion) arms deal that Nairobi signed with Washington, and which got the United States Congress approval in May 2017.
The six helicopter gunships were handed over at an event in Nairobi attended by US Army Major General Michael Turello, the commanding general of the Combined Joint Task Force in the Horn of Africa.
US Ambassador to Kenya Kyle McCarter was also present.
Former Chief of the Kenya Defence Forces General Samson Mwathethe received the helicopters at the Joint Helicopter Command in Embakasi, Nairobi.
Kenya is involved in operations against terrorist organisations, notably the Al-Shabaab in Somalia, as part of Africa Union Mission in Somalia (AMISOM) and along the Kenya-Somalia border," said Army Commander Lt Gen Walter Koipaton Raria.
The purchase of the helicopters, fixed with contemporary airborne and armament systems, is part of KDF's modernisation programme funded by the Ministry of Defence.
Under the earlier US deal with Nairobi, the 12 MD 530F weaponised helicopters were to be supplied together with 24 heavy machine gun pods, 24 HMP400 machine gun pod systems, 24 M260 rocket pods and 4,032 M151 high-explosive rockets.
Kenya will also get logistics support, training and technical assistance, spare parts and field service support.