Two firms begin mass face masks production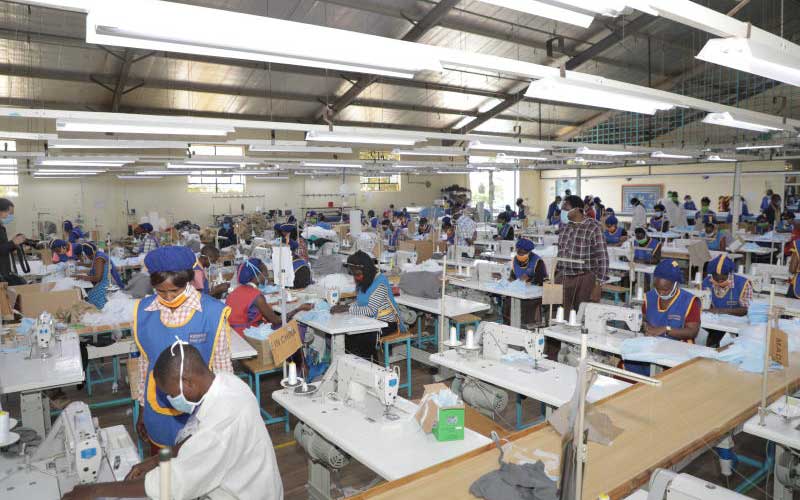 Government efforts to curb the spread of Coronavirus has seen two garment factories in the country burst into full-time mass production of face masks.
Kitui County Textile Centre (Kicotec) based at Syongila has been turned into a 24-hour production house where 30,000 pieces of masks are being produced in a day.
Eldoret-based Rivatex is also running mass production of face masks.
According to Kicotec's CEO Georgina Musembi, the garment factory that bagged a tender from the national government last year to produce uniform for chiefs has halted all other productions to concentrate on masks.
Save lives
"Our driving force is to ensure that we play a role in combating the spread of Covid-19 in the country and save lives," Musembi told The Standard yesterday during an interview.
The official said orders for the masks were increasing by the day, adding that they were making efforts to scale up the production per day to 100,000 pieces "or even more".
She revealed that those who have placed large orders for the masks include county governments, NGOs, corporate entities, private hospitals and parastatals that include Kenya Medical Supplies Agency (Kemsa) and Kenya Ports Authority (KPA). Kenyatta National Hospital has also placed a large order.
Working shifts
Musembi said that company tailors were working on day and night shifts, for eight hours each shift, in order to meet the demand.
In the past, the tailors numbering about 400 would work during the day and retire to their homes.
However, as a precautionary measure to minimise their interactions with people outside the facility, the county government has opted to accommodate all of them at Syongila Youth Polytechnic which is within the same compound.
"They no longer go home. We have decided to accommodate and feed them here as a precautionary measure against the spread of the disease," said Musembi.
After production, the masks are neatly arranged in labelled boxes each carrying 100 pieces. A box, according to Musembi, is sold out at Sh10,000.
This would perhaps seem a bit expensive to the ordinary person but Musembi insists it caters for the production costs and a profit margin.
To ensure Kitui residents get much affordable masks, she said the county government had identified and trained local tailors in different centres to produce masks at a much affordable price.
On Monday, Governor Charity Ngilu went round Kitui town giving the masks to small-scale traders and boda boda operators as well as matatu crew.
"These group of people are our first target (for free masks) because they interact with so many people. We are putting every effort to ensure we minimise the risks of spreading the virus," Ngilu said.
She revealed that Kicotec was up for the challenge of producing quality masks after getting quality standardisation and approval from Kenya Bureau of Standards (Kebs).
The governor established the garment factory early last year amid a controversy on its ownership, which at one time saw the County Assembly deny the facility funds for its operations.
Governor Ngilu has, however, insisted the factory belongs to the public.
Dr Temi Mutia, the officer in charge of value addition at the county government, said the raw materials for the production of the surgical masks were readily available in the country.
Mutia noted that the materials approved by the World Health Organisation and Kebs for making the face masks are non-woven and include polypropylene materials No. 17 and Polypropylene No. 20.
"They are currently available in Kenya so we don't need to import them from South East Asian countries," he said.