Police arrest another suspect in Sh72m money heist, recover Sh2.3m from his grandmother's house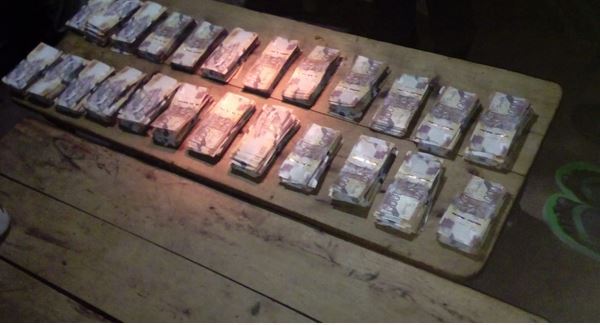 Police have recovered Sh2.3 million more of the Sh72 million that was stolen in a heist in Nairobi West.
A suspect who had been arrested in Machakos took police to his grandmother's house in the area where they recovered the cash in new currencies on Monday.
According to police, the suspect is a brother to another suspect who had been arrested on September 12 in connection with the heist.
After interrogation, he took police to Machakos where his grandmother aged 60 had kept the money. The money was taken away by police.
Director of Criminal Investigations George Kinoti said they are looking for more suspects and hope to recover more cash from them.
He added the latest suspect was arrested in Muumandu in Machakos following a tip off.
"No criminal will rest or have peace after committing a crime," said Kinoti.
Six suspects in the heist were last week charged with robbing the bank of the money.
The six, including three police officers, jointly with others at large allegedly robbed G4S staff of Sh74 million and 38 cassettes, 13 purge bins and 13 canvas bags all totaling to Sh75.9 million.
Prosecutors said they were in possession of dangerous weapons like fire arms and threatened to use violence on the staff during the raid on September 5.
In the second count, the six were charged with malicious damage to property.
The court heard that on the fateful day, the suspects destroyed 36 cassettes and 11 purge bins, the property of G4S valued at Sh1,267,000 in Thogoto forest.
They all pleaded not guilty to the charges and were granted Sh1 million bond.
Police had earlier on recovered Sh7 million from two of the suspects in custody. Six other suspects are still being held over the heist and set to appear in court.
Police investigations show the masterminds of the heist were the security firm staff, police and bank staff.
The money was being moved from G4S warehouse in Industrial Area to Standard Chartered Bank in Nairobi West. Those escorting the money accessed the bank ATM and vanished later on.
They reportedly plotted how to hire two vans to ferry their loot from Nairobi West to Thogoto forest in Kikuyu where they shared the same and left in a huff.
They intentionally left behind a team that was to pick the money and roped in the two officers who were in uniforms and armed. Those scheduled for the day's work were never picked up from their residences as earlier planned.