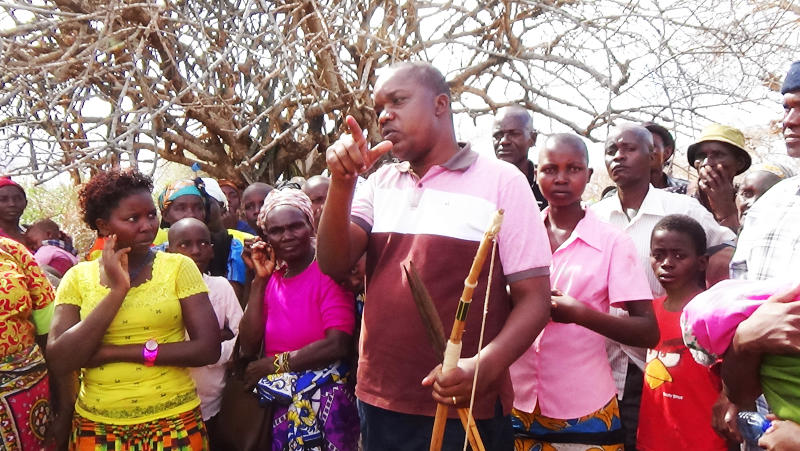 Close to 1,000 people living along the Kitui-Tana River border have fled their homes after weekend attacks by herders that left two people dead and two others seriously injured.
Some of the residents, who fled Ingo, Inyali, Kakya, Ikandani, Musenge, Kalamba, Kyeni, Mwaangi and Kivuiyo villages, have sought refuge at Mutha and Yimumba police stations in Kitui South and Kitui East respectively.
MPs Rachael Nyamai (Kitui South) and his Kitui East counterpart Nimrod Mbai have petitioned the county and national governments to drive out the armed pastoralists from the county.
Ms Nyamai and Mr Mbai accused the Government of failing to protect the lives and property of their constituents.
The armed pastoralists have migrated from Tana River and Garissa counties into Kitui in search of grazing fields and watering points.
The wave of attacks erupted on Saturday evening when a herd of camels strayed into PCEA church compound in Ingo village, prompting residents to drive them away to pave way for a Sunday service the following day.
Coordinated attacks
This action seemed to have angered the herders who ambushed the locals in coordinated attacks.
Learning in schools in the affected areas has been disrupted, with many children failing to attend classes for fear of attacks.
Nyamai said one of the victims, Mulatya Munyau, was shot dead at Ikandani at the weekend.
"For the past two years, we haven't experienced insecurity in this region. Can we be told what is happening at the moment?" posed Nyamai.
Another victim identified only as Ngau, a teacher at Kalambani Primary School, was stabbed with a spear on the ribs after he and a friend he was carrying on his motorbike ran into armed camel herders. The two men are admitted to Mutomo Mission Hospital in critical condition.
Kitui County Commissioner John Ondego told The Standard that security officers had been deployed to the affected areas to restore peace and order, adding that several suspects had been arrested over the attacks.
"Our security team is already on the ground. We are going to do a thorough mop-up because it is an open secret that the herders have illegal firearms," said Mr Ondego.
County Secretary Joshua Chepchieng led a team of county officers and Red Cross officials to the affected villages to explore a lasting solution to the crisis.
The county government's digital communication head, Dennis Omwange, said the team had moved to Mutha with emergency supplies, including blankets and medicine, to benefit more than 300 women and children camping at Mutha Police Station.
"The county commissioner's office and the county security departments have intervened by deploying security to restore normalcy," said Mr Omwange.