Thange River oil spill victims sue KPC over compensation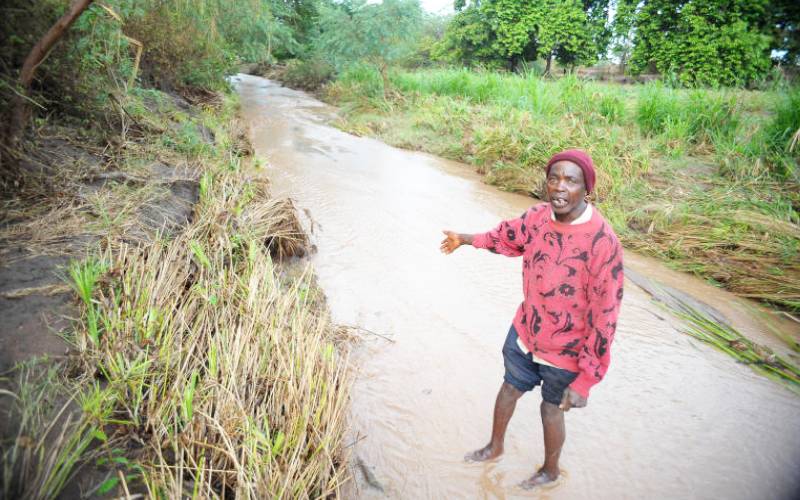 Victims of the Thange oil spill in Kibwezi have lodged a lawsuit against Kenya Pipeline Company (KPC).
On Friday, a group of 1,300 residents drawn from villages bordering River Thange, where oil products leaked in 2015, moved to the Environment and Land Court in Makueni seeking compensation.
The residents from Ngomano, Moki, Mwanza, Nzavoni, Makongeni, Kyoani and Kiauni villages in Kibwezi East accuse KPC of discrimination in settling victims' claims.
They say previous payments done by the oil firm have not been commensurate with the damage caused by the spilled oil products, which they claim led to the loss of livelihoods due to the polluted environment.
In the court documents seen by The Standard, KPC, National Environment Management Authority (Nema), and Water Resource Authority (WRA) have been listed as the first, second and third respondents respectively.
"The victims are currently undertaking fresh independent tests and examination of the economic and social loss to their health, soil, environment, water and vegetation to determine figuratively and/ or scientifically the extent of damages, which shall be added as further pleadings once the exercise is completed," reads the plaint.
KPC is also accused of failing to address issues raised by an environmental impact assessment report 'with intention to defeat justice'.
"Instead of making full reparations ... the first respondent actively sabotaged the compensation process by making partial compensation relating to crop and livestock losses and refusing to address remaining serious claims," the document reads.
Parliamentary inquiry
The compensation matter has been the matter of a parliamentary inquiry after KPC acting Managing Director Hudson Andambi appeared before the National Assembly Environment Committee in June this year.
Mr Andambi told MPs that CIC Insurance Group was yet to pay 1,182 claims because the claimants had not been able to satisfactorily prove they had suffered injuries as a result of the spillage.
The committee heard that 266 claimants had been paid Sh35 million, and out of 4,267 claims made, 491 were discovered to be fraudulent and rejected while other claims were denied after it was determined they were made by people who were not Thange residents.
In the court documents, KPC is accused of compelling the claimants to sign discharge vouchers through deception, coercion, threats and intimidation using the provincial administration. The vouchers state that the victims have received full compensation and have no further claims.
Nema is accused of failing to protect the environment and ensure its restoration in compliance with the law, and concealing and failing to update the victims on the progress and measures of restoration of the damaged environment.
The WRA is alleged to have failed to monitor and re-assess the damage caused to River Thange, and neglected its mandate to demand for immediate restoration of the river to its original state.