Paradox of hefty water bills levied for Kitengela dry taps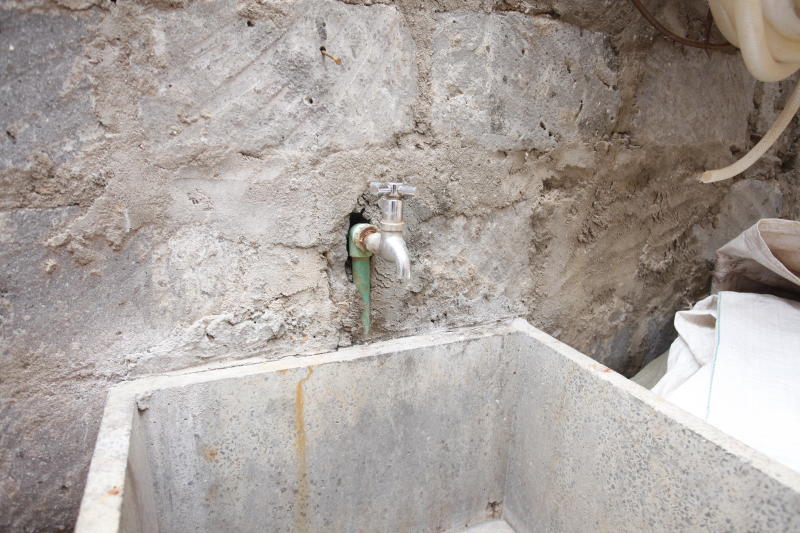 As the scarcity of water escalates in and around Nairobi, residents of Kitengela, an offshoot of the city, are outraged by a company that has been billing them yet their taps are dry.
Export Processing Zone Authority has drawn the wrath of the thirsty residents for using over Sh30 million to construct a water tank and other infrastructure, which is of no use to them.
Investigations by Radio Maisha, broadcast in its Sepetuko programme, have shown how the company has been charging huge amounts of money to connect residents to their water supply but did provide the commodity.
A resident, Samuel Kimunge, says EPZ charged him and 19 others a connection fee of Sh30,000 per household as a precondition for being supplied with water.
Kitengela Inter-estate Liaison Association Chairman Andrew Gachengu says "it looked like we had paid for water pipes. EPZ began taking us round in circles-- one day they would say Nairobi Water wasn't supplying enough, another day they would say the pumps have a problem."
Water rations
Our investigations have revealed that residents of Upper Valley, New Valley, Chuna, Ideal and others have been adversely affected and supply to their areas has been rationed by EPZ.
Some of the correspondences dated November 14, 2014 addressed to Chuna Housing Co-operative Society was demanding fees in arrears of Sh217,385, with a rider that with effect from November 15, 2016 all water accounts in arrears were to be forwarded to external debt collectors at their cost.
Another letter written on June 23, 2014 by Chuna Housing Cooperative Society Chairman Daniel W Onyango addressed to the EPZ General Manager Utilities, Tom Soigwa, says:
"We have tried in vain to have the water crisis in our estate resolved through numerous calls to your customer care office... There is a standing agreement between the Society and EPZ about water supply to this estate, please intervene and let this agreement hold."
After failing to resolve the crisis, Gachengu now says "we believe that EPZ has colluded with vendors to indirectly sell us a commodity we have paid for. I think they shut the water on us and in turn sell to vendors who then sell to us. We think that way, it is more profitable for EPZ."
However, EPZA's Chief Executive Officer Fanuel Kidenda said the allegations of collusion have been investigated and found to be untrue.
"EPZA procures bulk water supply from the Nairobi Water and Sewerage Company. The water is supplied to EPZ factories (as a priority) and the balance supplied to other customers, including those in Kitengela. We therefore do not deliberately deny water to any of our clients," Kidenda says.
He however did not answer queries on why the billing has continued despite the shortage.
Some residents are also unhappy that even after paying the connection fee they were advised to construct storage tanks by EPZA, which was also constructing its own storage facility and infrastructure at a cost of Sh300 million.
Douglas Okeyo, a real estate developer around Ideal, says that in 2014 and 2015, EPZ advertised that it was building a new water tank.
"So they asked us to also build our own tank around Ideal. The Authority thought that if clients have a reserve tank that would safeguard against shortages at EPZ," recalls Okeyo.
Extra tank
On November 24, 2014, EPZ invited interested parties to bid for construction of a "water infrastructure". The advert ran in local dailies as is the rule with state corporations. Several firms placed their bids for a job that was paying over Sh300 million.
Our investigations show the government fiscal management tool, IFMIS, is the link through which EPZ received 12 bids and the tender was awarded to Hilora Investments that was notified on December 22, 2014. The firm signed the contract documents on January 15, 2015.
The website also indicates that the job was completed eight months later on August 30, 2015.
However soon after, Radio Maisha aired a story that this link seemed to have been disabled for it had not been delivering any information. This happened soon after Kidenda replied our mail a day before the story was aired.
A manager at the utilities technical services department that is in charge of water services, who requested anonymity, says the water department needs an extra tank at its Athi River establishment to safeguard against shortages from the Mlolongo tank.
"But the quality of tank that was built has let us down. In fact, up to now, it has not been handed over to us as a user department to manage it, and that is four years down the line. We tested it and it was leaking," says the manager.
However, Kidenda says "there is value for money. All items under the scope which have been completed are in use and are serving the interests of the Athi River Zone for which the infrastructure was developed."
While defending the quality of works, the CEO says the said Sh310 million was not for a tank alone but a trunk water supply line and other accessories.
"Engineers and the contractor are involved in ensuring completion of the tank to specifications. With regard to the other infrastructural works, the quality of work has been ascertained by our engineering team, technical personnel from the Public Works Department and the statutory inspection and acceptance committee. The infrastructure is in use and supplying investors," he says.
Kidenda adds: "We confirm that there is an on-going corruption court case instituted by the Ethics and Anti-Corruption Commission (EACC) against one of our officers who is currently serving suspension. We can also confirm that there is an on-going court case instituted by a former procurement manager whose services were terminated by the EPZA Board on account of ethical and professional gross misconduct. As these matters are still in court, we are unable to comment further."
He defends his record, saying neither him nor his senior managers interfere with the process of procurement.
To fight drought, involve communities
According to the latest information from the Meteorological Department, rainfall will be poorly distributed in April, May and June, and this will have a serious impact on agriculture