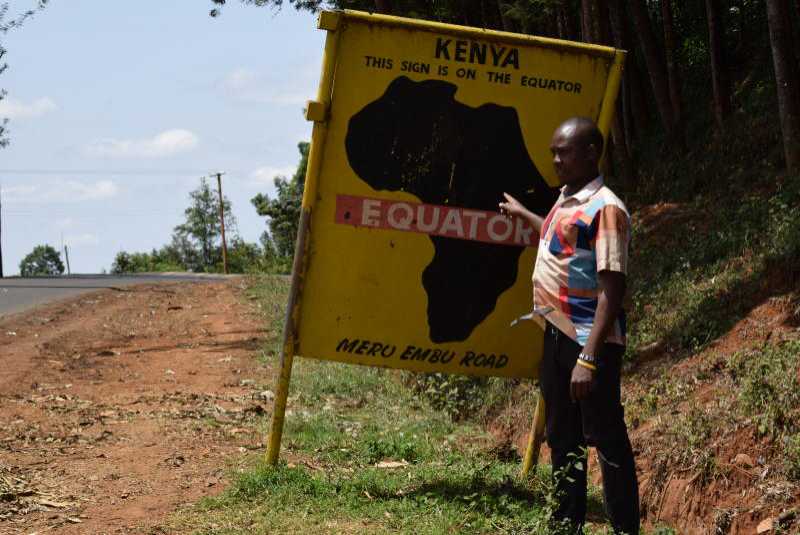 For years, local and international tourists have made stopovers in Gatimbi, Meru County, to 'see' the invisible line that is the Equator. Visitors like to take photos, leaning on a sign board screaming "this sign is on the Equator", convinced they are standing right at the centre of the globe. Sadly, if you are among the thousands of people who have posed for a picture while smiling broadly at the Gatimbi Equator point, perhaps it is time you tossed it into the trash bin. But if the Equator still excites you, plan to visit Ngónyi, a kilometre from Gatimbi, which it has been discovered lies on the 'true' Equator, and take fresh pictures.
SEE ALSO: Covid-19: Popular Meru town meat joint shut after staff test positive
Kenya Tourism Board and Meru Tourism and Trade department discovered the Equator passes Ngónyi after "appropriate measurements were done" and not Gatimbi. Meru County Tourism, Trade, Investments and Co-operatives Executive Maingi Mugambi said after engaging experts, the Equator was found to pass Kariene ka Moi near Mwiramwanki Primary School, and not Gatimbi as people had been made to believe since 1970s. "Using the GPRS system we discovered it was not at the right place so we worked to identify the correct position," said Mr Mugambi. "We want to encourage people from all over the world to come visit this unique place. Meru is among the few counties in Kenya where the equator passes." The area is 5km from Meru town on the way to Nairobi. This is at the border of Central Imenti and North Imenti sub counties and a sign board announcing you are on the equator was erected by county government and KTB on Tuesday. A worker said the signboard which was transported from Nairobi by road cost about Sh500,000. Residents are excited after Mr Maingi said the county government would partner with locals to set up curio shops and other facilities to turn the area into a tourist site. Jasper Kirianki said it was exciting that he has been crisscrossing the northern and southern hemispheres without knowing. "We are very happy but confused at the same time. This area was originally called Mwiramwanki. Then retired President Daniel Moi made a stop here a long time ago and (mistakenly) said he was glad to be at Kariene, yet the real Kariene is a little farther ahead. We said if Moi says this is Kariene so be it and we renamed it," said Kirianki. He added: "But now the Government tells us we are on the equator and now we have to rename this area again from Kariene ka Moi to Equator." But those who live at the 'original' Equator shopping centre feel cheated. Almost all businesses there have 'Equator' as part of their names and travellers always tell the bus conductors to drop them at Equator. Mbursar Mbwiri, who runs the Equator Land and Property Agents at Gatimbi, is shocked that Gatimbi is not on the Equator. "It is perplexing that we have lived a lie for decades. The Government put that signpost indicating this area is on the Equator in 1975. Now we are being told the Equator is a kilometre away. What had they used to wrongly place the Equator line here? A ruler?" the elderly Mbwiri posed, disgust all over his face. He added: "School buses from all over the country stop here for children to learn about the geographical importance of the Equator and take photos. They will be shocked to know they were at the wrong place," he said.