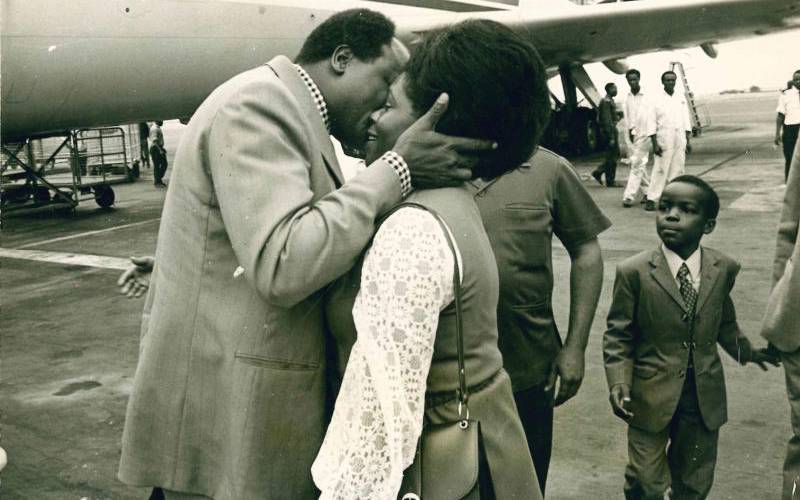 The late President Mwai Kibaki met his wife, the late Lucy Muthoni, shortly before he left for studies at the London School of Economics.
When he returned to Kenya, Kibaki who died on Friday last week would shuttle between Nairobi where he lived, and Kambui Teachers College in the tiny village of Kwa Maiko in Githunguri, Kiambu County, where Lucy was a student.
Lucy, the daughter of Reverend John Kagai and Rose Nyachomba, was very spiritual and loved God, villagers in Kwa Maiko told The Standard.
"If she was not in a fellowship at PCEA Kambui, you would find her at PCEA Komathai. She never missed any church service or fellowship," those The Standard interviewed said.
Kibaki and Lucy exchanged their marriage vows in 1961 in a colourful wedding ceremony at the PCEA in Kambui.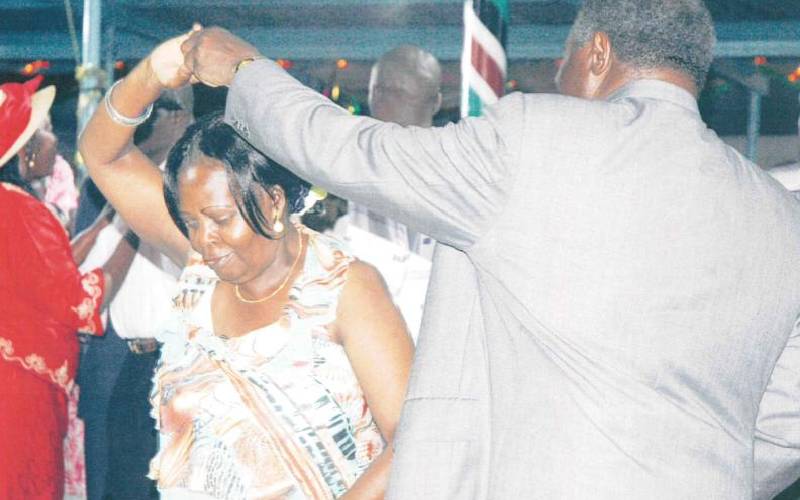 Kibaki's best man was Mr Samuel Kamariku and their wedding was officiated by Rev Wanyoike Kamawe.
Stephen Gichohi recalled how Kibaki, his newly-wedded wife Lucy, and other guests flocked their home for lunch after their church wedding.
"I was in Form Four then. As young men, we served Kibaki with nyama choma. My mother Mary Wahito who died last year aged 95, and Mrs Kibaki were close friends. That is why she hosted the party after their wedding. We all had a good time. We enjoyed food and drinks after the church ceremony at our home," said Gichohi.
He said his late uncle who he only identified as Kamariku, and President Kibaki, become great friends after meeting in London where both had gone to study.
"My uncle often came to visit us and Kibaki would accompany him. My uncle's wife and Lucy were housemates at the teachers' college. Both Kibaki and my uncle would, together, go to the college to visit the women who would later become their wives," said Gichohi who spoke to The Standard from his home.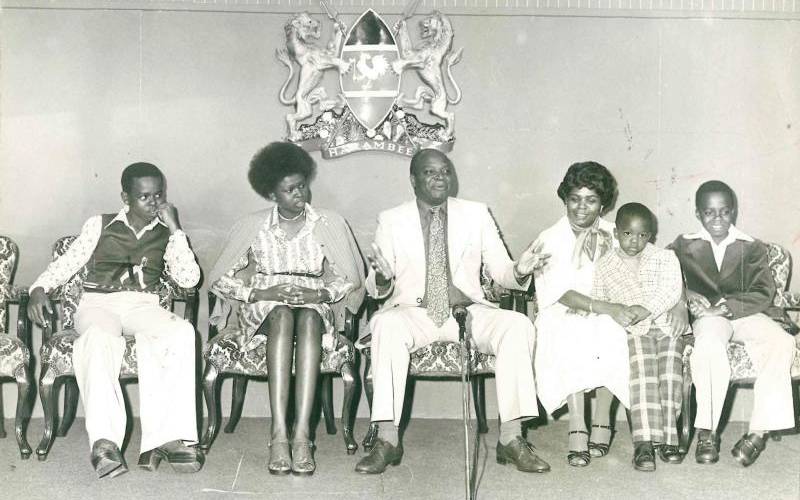 Many more residents who attended the wedding of Kibaki and Lucy recalled the events of that day and how Kibaki and Lucy would become part of the local community.
Gichohi's sister Hannah Wanjiku told of how Kibaki and Lucy loved each other.
"We were all happy when Kibaki took over as president in 2002. We kept in touch and we often spoke to them on phone. Lucy even promised to pick me up and take me to State House. However, this never happened because of challenges related to the protocol of State House," said Wanjiku.
Rev Christine Nyambura of PCEA Kambui Parish, the venue of the wedding between Kibaki and Lucy, said the duo never forgot the village.
"Mrs Kibaki visited the church in 2007 when it was celebrating 100 years since its establishment. It was during that function that we also held a fundraiser for the church. Lucy made her personal contribution of Sh4 million. The money was meant for the construction of a church that had stalled for over 10 years," said Rev Nyambura.
Josephine Wambui, an elder at the church, narrated how four elders approached President Kibaki at Muthaiga Golf Club in 2014 over the same project.
"He gave them attention despite the fact they did not have an appointment with him. We were surprised that he listened to us. He told his security detail not to stop us. The project had stalled again and we wanted to talk to him about it," said Wambui.
She added: "Kibaki was so happy to learn that we were from Kambui. The following day, he gave us another donation of Sh1 million to help us complete the church," Wambui said.
Samuel Njonjo, 89, from Ngewa village, said Kibaki's death has hit the community hard. "We will never forget how Kibaki and Lucy changed the lives of residents here in Kambui. They especially had a special interest in women's education and we will surely miss them," he said.
"We would gather girls whose fathers wanted to keep them from school and with the help of Kibaki and Lucy, many girls were able to go to school. As a result, many women were able to go to school," said Mr Njonjo.