12 days on, fate of trapped man in Siaya gold mine still unknown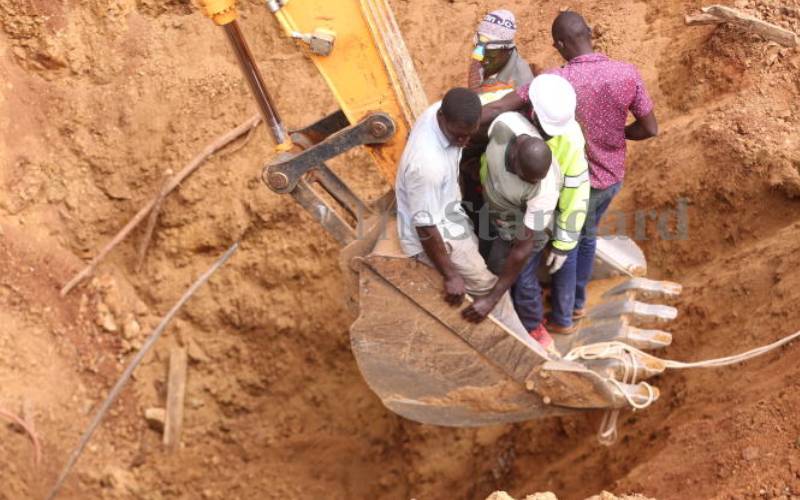 Local miners and State officials have lost communication with 25-year-old Tom Okwach who was trapped nearly two weeks ago in the Abimbo gold mine.
Okwach and seven others were trapped inside the mine in Siaya County on December 2 after the walls of the shafts they were digging in collapsed. Two other miners they were with on that day were able to run out unhurt.
Enos Ong'anga's body, however, was retrieved on December 4.
Yesterday, Bondo Sub-county Deputy County Commissioner Richard Karani said they had no information on Okwach.
"After the shaft caved in again, we lost communication between him and his colleagues who were using manual processes to try and get to him," he said.
Karani said an excavator was removing soil from the site, after which another shaft would be made.
"Local rescuers will then continue with the search. We are trying our best. The excavator has been on site all through," he said.
Okwach's family on Saturday appealed to the State to send professionals to help rescue their son after raising concerns that the excavator the county government had provided had run out of fuel a number of times, slowing down the rescue.
While saying "we appreciate help from all over", Karani noted that local rescuers were on standby to support the excavation process but could not give exact timelines on when the manual search would begin.
"The family should not be worried about the issue of fuel as we are constantly providing it until the rescue process is over. We are working with the national government on this," said Siaya County Secretary Joseph Ogutu.