Starving Kilifi residents stare at death as drought claims livestock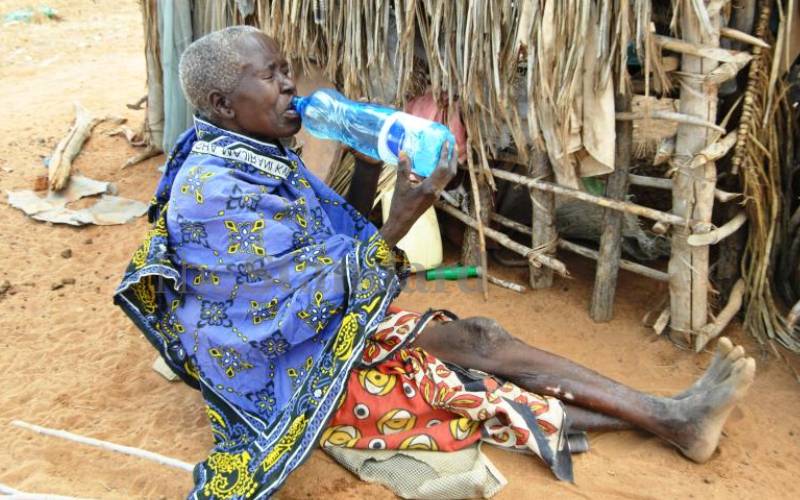 Seventy kilometres out of Malindi town, shrubs dot the murram road as we drive past Sabaki River in Magarini.
Here we are ushered in by the face of a frail and feeble Mkutano Menza, who leads us to his hut. The Standard team meets Menza, 65, who lives alone and says it has been three days since he took his last meal.
As the drought worsens in Kilifi County with each passing day, Menza says he lives by hope, since he does not know when he will have his next meal. "I depend on well-wishers. Whenever they come, I eat. But most days, I just survive by the grace," he says.
The 65-year-old says it has been four years since he last harvested. He has never witnessed such famine.
With water being the most sought-after commodity locally, Menza cannot even remember the last time he took a bath. "My wife and kids deserted me. They could not continue staying here because of the drought and pangs of hunger," he recounts.
More than 145,000 residents have been affected in Kilifi County, and thousands of livestock are staring at death should the situation worsen.
Last week, President Uhuru Kenyatta declared the current drought situation a national disaster, naming Kilifi as one of the worst affected counties.
While making the announcement, the President directed a multi-agency team drawn from the Ministry of Devolution and Planning, and Treasury to look into the issue and draw mitigation plans to avert the looming crisis.
The Kenya Red Cross says more than 3,500 head of cattle have died in the last week alone due to the escalating drought situation, as the pangs of hunger continue to bite in the Coastal region.
Red Cross regional boss Hassan Musa says if urgent intervention is not made, then lives will be lost .
He says the drought situation is devastating. "Out of the six counties at the Coast, five are affected. They include Kilifi and Tana River, where most livestock are dropping dead due to lack of water and pasture."
Kilifi alone has witnessed the death of 1,970 cows. Another 350 have died in Lamu, and more than 1,075 in Tana River.
Most water pans in these counties have dried up, leading to water scarcity and lack of pasture.
"Twenty per cent of the remaining water pans are not clean for human consumption, making it unsafe for the residents to drink. As of now, a cow that would ordinarily go for Sh40,000 is being sold at Sh5,000, and if the government will not buy them, then the owners will enquire huge loses," he adds.
The Kenya Red Cross has helped more than 1,000 families in Lamu, especially in areas near Boni Forest, where insecurity has made it difficult for the residents to get any help.
"The next phase of our support is sending cash to the worst affected households in Kilifi," says Mr Musa.
He says the government has started water tracking through the National Disaster Management Authority (NDMA) to distribute water to families, while calling on other stakeholders to join the efforts and help save lives.
Kilifi County has recorded poor rainfall for the last two years.
Across the country, more than 2.14 million people are grappling with water scarcity.
For pastoralists, pasture is hard to come by, animals are dying in their thousands and there is fear that human deaths could soon be reported if nothing is done to arrest the situation.
Victims are in dire need of relief food. The Coast region alone has 376,000 people in need of food aid. Of the number, 145,000 are from Kilifi.
Magarini is the most affected sub-county in Kilifi, followed by Ganze, Kaloleni and some parts of Malindi.
A report by the Ministry of Devolution indicated that a multi-stakeholder team, led by National Drought Management Authority, assessed the drought and food situation in relation to their interventions to establish the gaps that need immediate and medium-term measures.
The most-affected counties are Turkana (370,000), Wajir (195,000), Mandera (173,000), Garissa (168,000), Marsabit (160,000) and Kilifi (145,000). Other hard-hit counties are Baringo, Kitui, Isiolo, Tana River, Kwale, Kajiado, Narok, Lamu, Samburu, Makueni, West Pokot, Laikipia and Taita Taveta.
When the Kenya Red Cross officials, accompanied by journalists, visited Magarini, Kilifi, last Thursday, they came face to face with the sad reality, especially past the Sabaki Bridge along the Sabaki-Marafa-Baricho road, where crops have failed.
Their first stopover at Gandini was necessitated after their attention was drawn by dogs feeding on cows remains.
Water pans in the area have dried up and residents have to travel long distances to buy a 20 litre jerrycan for Sh50.
In the area, livestock are worn out. Area Assistant Chief James Lewa said more than 600 head of cattle had died. In one homestead, two cattle were dead, and another one was in a critical condition. The cows were weak and a woman was trying to feed a frail one.
Lewa said the drought started last year, but this year the situation worsened, resulting in many animal deaths. "One family lost 100 head of cattle, the largest for a household," the administrator said.
In a different homestead, Reuben Kitsao Jefwa, a father of 12, was attending to his only remaining cow after he lost 31 others to the biting drought.
"My cows were my only source of income. I have two sons who are yet to join secondary school. I was to sell the cows to raise money for school fees, but now the future looks bleak for my family," he said, bitterly.
He added that even putting food on the table for his family was a problem, adding that good Samaritans and the Government should hear their cry.
Kitsao linked the drought to climate change, adding that since the flooding of River Sabaki in 2018, they had not received even short rains.
"Animals have no grass because of the drought. They finished the little grass that was available and now they are very weak and some are dying," he said.
He expressed fear that the situation could escalate in the next few months, saying the county government had not supported them.
Kadzo Charo, a mother of five and a resident of Bungale, said the biggest challenge was getting animal feed, as everywhere was dry. She said she had been struggling to feed her cows and family.
She has since lost one animal to hunger. Her neighbors' cow is also in critical condition and feeds on dry grass. It lacks the strength to walk the long distance others go to get pasture. She buys grass from the banks of River Galana, which costs Sh300 per day.
Kadzo says the county government has not offered any support. She wants authorities to provide animal feed and relief food.
Another resident, Jane Charo, said their major challenge was how to access water. She said they could stay up to one week without water after their pans dried up.
"We did not harvest in the last three seasons given the lack of rainfall. Now to get water, there is a tap, but the water is available for only two days a week," she said.
Ganze Member of Parliament Teddy Mwambire says the area leadership has failed to find a lasting solution to the perennial problem of drought in the region.
"We need to speak the truth and admit that the national government and county government have failed. We need to think about the future and find lasting solutions, not the knee-jerk reaction being used by politicians," said the legislator.
He, however, said plans were underway to provide relief food and help save lives.