Leaning Kinoo building safely demolished three days after part of it collapsed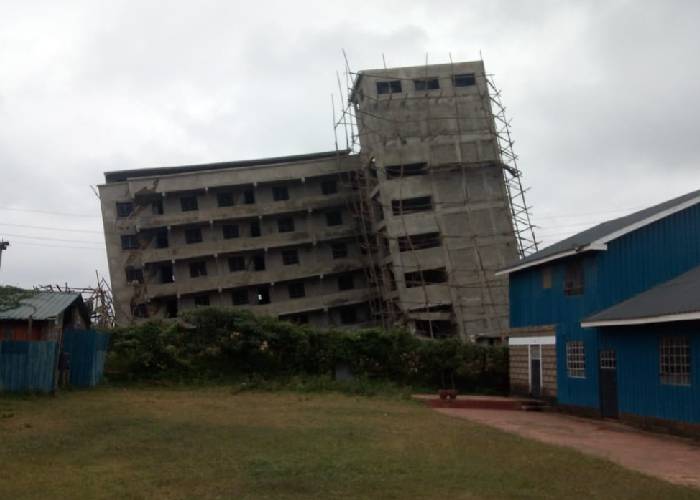 The dangerously leaning five-storey residential building in Kinoo, Kiambu County, was on Monday evening brought down following orders from the county government and the National Construction Authority (NCA).
The building was safely demolished under the supervision of engineers from the authority and officers from the county government.
NCA engineers inspected the site on September 3 and issued a stop order to the developer due to non-compliance. The authority, in a statement, said the building developed cracks and started crumbling due to foundation subsidence.
NCA and Kiambu County government then ordered the developer to bring down the structure immediately to secure neighbouring property and lives.
Residents said the owner of the building visited the site on Thursday after being informed that the structure was collapsing.
"The owner came here on Thursday night before leaving without uttering a word," Ken Kaunya, a resident who lives near the ill-fated building told The Standard. "Those living near the building relocated yesterday because it was just a matter of time before it collapsed."
According to the Institution of Engineers of Kenya (IEK) president, Engineer Nathaniel Matalanga, the building collapsed due to a weak foundation.
Speaking to The Standard, Matalanga said Kinoo and the larger Kiambu County has red soil which requires a large and strong foundation. Matalanga linked the collapse of buildings to greedy developers whom he accused of hiring bogus contractors.
"You cannot build a five-story structure on a narrow foundation without the service of a structural engineer, it will collapse," said Matalanga.
The IEK boss accused the Nairobi Metropolitan Service (NMS) of failing in its supervisory role and called on the government to crack the whip on rogue developers and contractors.
Matalanga said NMS has ignored the law which requires developers to seek the advice of a structural engineer prior to starting any significant works or construction.
"If developers stopped shortcuts as well as greed and hired professionals, they will not lose their investment, and we will have quality buildings," he said.