Expert: Why Kinoo building is collapsing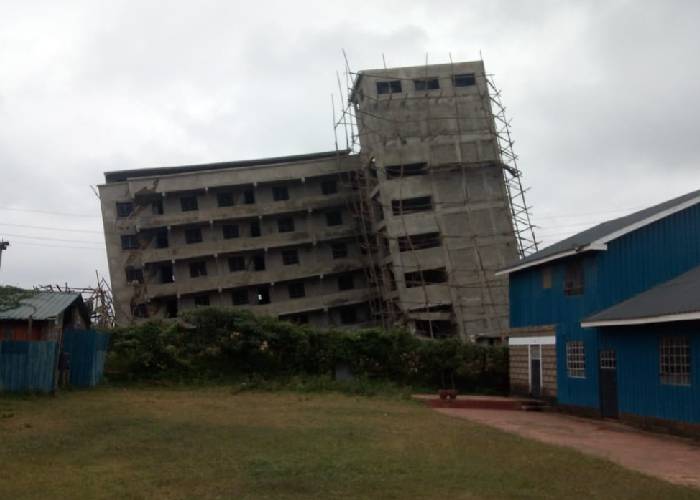 A five-storey residential building under construction and which partly collapsed in Kinoo after developing cracks on Friday has no proper foundation, an engineer has revealed.
Speaking to The Standard after his team visited the site, Institution of Engineers of Kenya (IEK) president Engineer Nathaniel Matalanga said the Kinoo building is crumbling because it stands on a weak foundation.
He said the Kinoo area and the larger Kiambu County has red soil which requires a large and strong foundation built with quality materials to support a building.
He linked the rampant collapse of buildings to greedy developers whom he said hire bogus contractors instead of qualified professional engineers to build their houses.
"You cannot build a five-story structure on a narrow foundation without the service of a structural engineer, it will collapse," he said.
The IEK boss urged the government to create a conducive environment for professionals especially those in the engineering profession to reduce deaths and losses witnessed during such unfortunate collapses.
He said if qualified engineers were involved in the entire process, cases of building collapsing and killing people will be very rare.
"If developers stopped shortcuts and greed and hired professionals, they will not lose their investment and we will have quality buildings," he said.
He accused the Nairobi Metropolitan Service (NMS) of failing in its supervisory role, adding that some of its officials are bribed by developers to allow substandard buildings to be constructed.
"If National Construction Authority (NCA) says the structure was not approved, how come the developer was allowed to build it to the fifth floor?" he posed.
Matalanga said NMS have ignored the law which requires the developers to seek the advice of a structural engineer before they started any construction, calling on the government to crack the whip on rogue developers and contractors.
Matalanga said if not stopped, the country will witness more cases of buildings under construction collapsing and killing people.
NCA officials who visited the Kinoo structure said the entire structure will have to be brought down and that investigation will commence immediately to establish if the law was followed during the construction.
Matalanga, however, accused NMS through the Department of City Planning of failing to supervise physical constructions in the city.
What happened
Residents said the owner of the building visited it on Thursday after being informed that his structure had started showing signs of collapsing.
The owner came here on Thursday night before leaving without uttering a word," Ken Kaunya, a resident that lives near the ill-fated building told The Standard.
"People living near here left yesterday because it was just a matter of when before it came down," said Kamunya.
Three people were killed while dozens were injured on Tuesday after a building collapsed in Gachie, Kiambu County.
The Gachie building is said to have caved in at around 2 pm when the workers were putting up a slab for the sixth floor.