Man retrieves three bodies from 40ft borehole in Pokot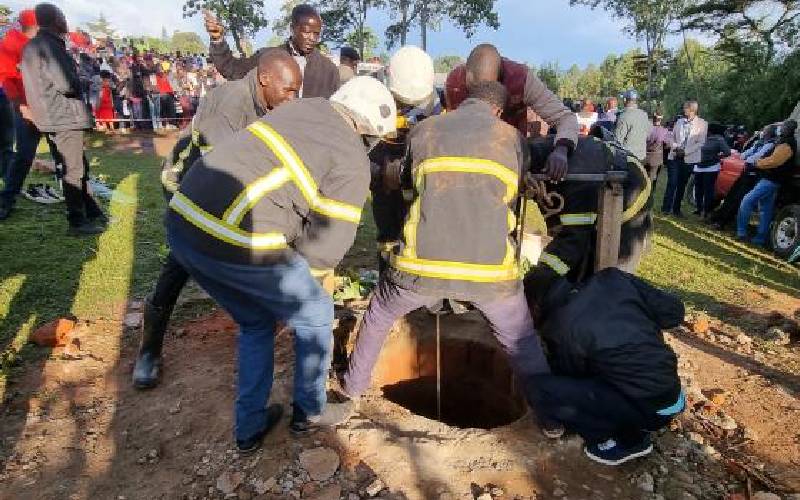 Using his gold mining talent, he has defied the odds to carve a niche for himself in his voluntary rescue missions within and outside West Pokot County.
Leonard Kamosin, who helped to retrieve three bodies from a 40ft well at Chewoiyet primary school has been praised for bravery and sacrifice.
Without an oxygen cylinder to assist him, he intervened by descending into the borehole where two Standard Eight pupils and a mason had died at the weekend.
His wife Teresa Chebet who was scared that he might die inside, went down on her knees to pray as he scaled down the borehole.
The thought of raising their young children as a single parent crossed her mind and she closed her eyes in prayer.
"He had not informed me prior to his decision to rescue. I just saw him take a rope and started fastening it around his waist. In a matter of seconds, he started descending into the borehole. I was shocked," she said.
Villagers heaped praises on Kamosin by describing him as a hero who risked his life to retrieve the three bodies after rescue efforts by the police, county, and Kenya Red Cross Society teams failed.
For hours, police officers and other experts had tried to enter into the well to retrieve the bodies but could not manage.
The borehole tragedy occurred after a container used to draw water fell into the well and one of the pupils decided to retrieve it but took a long time to resurface.
The second pupil decided to descend and help but also failed to resurface, forcing a mason to try his luck in helping the children come out. The rope he was using broke midway and they all died in the Friday afternoon tragedy.
Rescue teams made frantic efforts to retrieve the three but it was at around 6pm when Kamosin offered to help.
Kamosin told The Standard he had to sacrifice his life to get the bodies despite the police, county rescue team and Kenya Red Cross teams being unsuccessful for hours.
He has worked in gold mines and says he used his experience in exploring deep pits to retrieve the three bodies.
Kamosin said in his search for gold he would enter into 90ft holes.
"I had arrived home after herding livestock when I saw the county fire extinguisher being driven towards Chewoyet primary school. I asked and was told about the tragedy at the school," he said.
Kamosin went on, "I asked the chief to allow me to enter but she couldn't believe me. Everyone was worried and told me to keep off, but I assured them I would try. I told them there was a time I entered a 90 feet deep borehole in Trans Nzoia County to retrieve goats that had fallen in," he said.
In the Chewoyet tragedy, Kamosin said, he entered into the well and while inside, he gasped for oxygen but struggled to tie two bodies with a rope. He called out to those outside the well to pull the bodies out.
"A helper who also sinks boreholes helped me to access the third body which was also finally retrieved," said Kamosin.
Kamosin said he has not received any money for the job he did, adding that his interest is only for "wisdom to follow him day and night".
"I sacrificed for the sake of my community members. I have lived with my neighbours peacefully and I don't expect any reward because I might need help tomorrow or any other day," he said.
Christopher Mnangat, a neighbour, said the man has turned into a hero in the village.
He asked the government to give him a token by educating some of his children and grandchildren.
"The pupils fell in the borehole at around 3pm on Friday. The Red Cross society and police officers came immediately but they didn't manage until 6 pm when this man entered into the borehole and retrieved the bodies Had it not for his efforts, the bodies would still be in the borehole," he said.
He asked the county government to employ him in the disaster management team because he sacrificed a lot.
"I am a parent at Chewoyet Primary School and what he did touched lives. He also has children who are learned but unemployed. Why did the county government officials lie to him that they will reward him but he hasn't been given anything?" he said.