Water shortage hits Tana River, locals pray for rainfall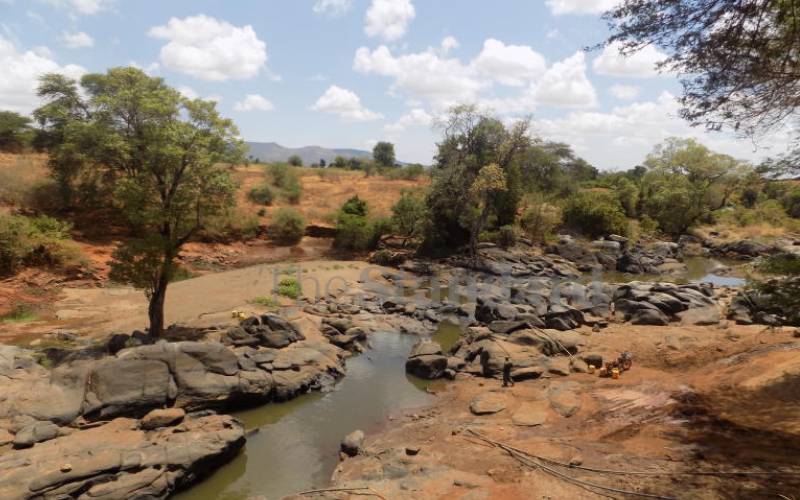 Residents of Garsen Town and its environs in Tana River County have complained of an acute water shortage running into weeks.
They said the problem had led traders to abandon a new market and instead sell their wares in rented premises where they get to buy water at Sh30 for a 20-litre jerrican. "We buy it from uncertified sources. Most of the time the shortage runs for even six months," said Hassan Golo, a resident.
He said residents still paid Sh500 every month as fixed water metre charges to the Tana Water and Sanitation Company (Tawasco), even when water was not available.
Speaking at Hurara shopping centre during a visit by Water Principal Secretary Joseph Irungu, Kipini West MCA Musa Wario complained that residents were getting water from Kilifi County at high prices. "I have tabled Motions at the assembly, but the County government doesn't act to save the situation," he said.
Garsen MP Ali Hashaka Wario said women were now waiting for rains so they could "fetch water from the tarmac road." The county's water chief officer Soba Hussein promised action.
"We have eight water bowsers to supply water throughout the expansive county and they are not enough. We are now investing more in maintaining and running the water projects," he said.
Mr Irungu said water projects done by the national government at a cost of Sh112 million in the Tana Delta sub-county would be handed over to the county government to run.
Chair of the Coast Water Works Development Agency Omar Boga said: "Our water coverage is 56 per cent, but we want to hit 85 per cent by 2025, when the national government gives us more money for ongoing projects."
Elsewhere in Hola, at least 50,000 residents have not had water for two weeks owing to the disconnection of power over a Sh4 million electricity bill.
Halima Sarawe said she had withdrawn her children from school to help in the search for water. "Our children have been experiencing stomach problems after consuming water from Tana Irrigation Scheme, and so we left it for animals," said Ilham Mohammed.
In the Wachakone village, residents claimed they were losing lives to crocodile attacks in efforts to draw water directly from the River Tana.
The shallow well in the village square has broken down, pushing locals to take the life-threatening risks.
"It was during a similar crisis three months ago that I lost my wife to a crocodile while she was fetching water from the river, and now I fear for my children," said Athman Komora.
In Bangale Ward, residents have lost patience and are migrating towards Madogo town in search of water.
Of more concern to the residents, however, is the Idle Sh79 million drilling rig that was procured by the county administration in 2019. [Nehemiah Okwemba]
The drilling rig hyped as a game-changer to the water challenges in the county is yet to drill a single borehole and sits idle at the county department of water offices.
"We fail to understand why until today, taxpayers have not enjoyed the fruits of the drilling rig, and instead have to toil so hard to get drinking water," said Wayu MCA Sadaam Hussein.
Despite getting a budget allocation of Sh300 million every year, the department of water is yet to initiate a life-changing strategy in the water sector.
The Managing Director of TAWASCO Mr William Jilo said that the tussle with Kenya Power will be resolved soon and services restored as fast as possible.
He admitted that the company had an accrued electricity bill for a long time that the revenue collected could not settle, hence had to wait for the amount to be captured in the budget.
"I have shared the same concerns with the chief officer of finance and he will be doing the necessary today, we hope to have the services restored as soon as that is done," he said.