Francis Atwoli Kileleshwa road sign burnt down, says it doesn't hurt him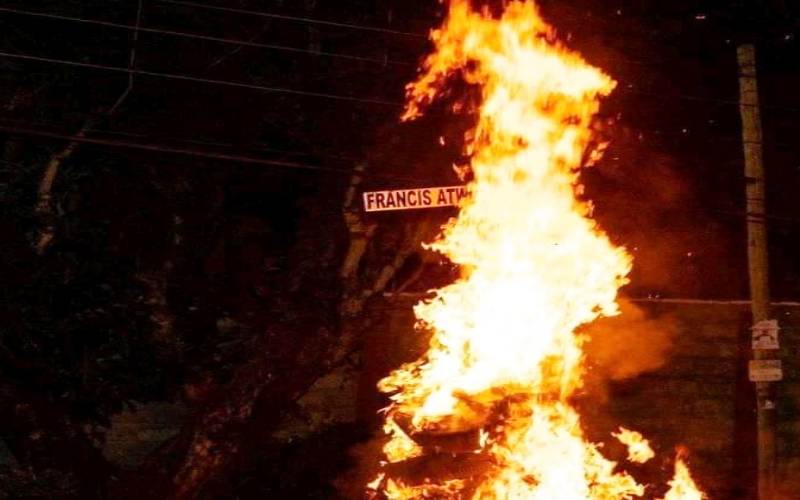 The Francis Atwoli road sign in the upmarket Kileleshwa neighbourhood, Nairobi, has been burnt.
However, the Cotu boss on Twitter this morning said, "Bringing down an honorary road signage under my name does not hurt me."
A picture doing rounds on social media shows the road sign ablaze in the dark. It is unclear who is responsible.
Some Kilelelshwa residents were angered that a road in Kileleshwa was named after the Cotu Secretary-General.
Atwoli added, "On the flip side, it will haunt, for life, those who are behind it. For how does it benefit them? How do you sleep at night knowing you are a vandal?"
The Cotu chief said his name is all over the world and one does not require street signage for them to know who Francis Atwoli is.
"The name will live in posterity taking into account my years of selfless service to the workers in Kenya and the world. If anything the signage was just an act of honour bestowed to me by Nairobians taking into account my many years of service."
Deputy Governor Anne Kananu in May renamed Mandera Road in Kileleshwa after Atwoli to honour the veteran unionist for his efforts in agitating for workers' rights.
"This road has been renamed after my good friend and brother bwana Francis Atwoli in recognition of his selfless contribution and agitating for the rights of Kenyan workers in the last 54 years," said Kananu.
Atwoli thanked Kananu's leadership for recognising his role in the trade movement and further reaffirmed his commitment to addressing the plight of Kenyan workers.
But the move to rename the road in Kileleshwa after Atwoli elicited controversy after it emerged that it was done irregularly.
Renaming a road requires it first to be approved by the county assembly.
According to the Nairobi County Assembly standing orders, renaming a road should be introduced as a motion before the House and if approved, it is effected.
The recent renaming of other roads such as Accra road after legendary Kenneth Matiba in March 2021, Eastleigh's first Avenue after Garissa Senator Yusuf Haji as well as Kapiti crescent road in South B after Joe Kadenge, were first debated and approved by the assembly.
While renaming Dik-Dik Road, only a notice of motion was issued by Roysambu MCA Peter Warutere during a special sitting, but it was not debated for approval or rejection. This was corroborated by the assembly Hansard.