State to construct 605 affordable housing units in Nakuru slum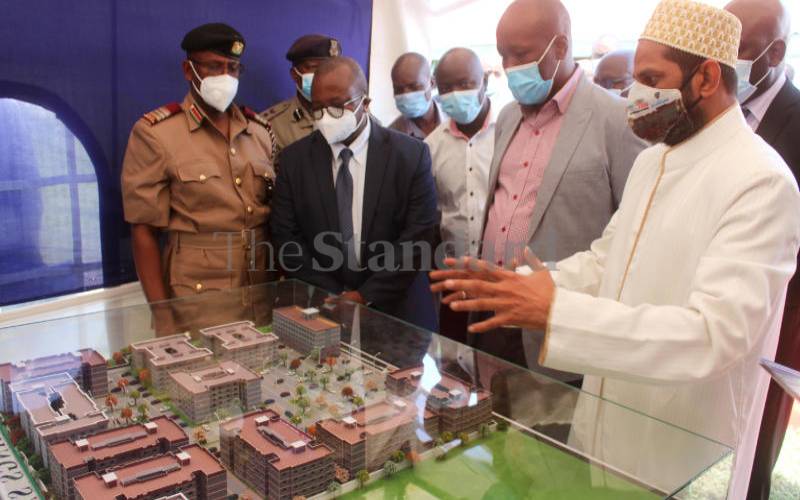 Bondeni slums in Nakuru is set to undergo a major facelift after the government embarked on the construction of a multi-million housing project to be sold to Kenyans.
Housing Principal Secretary Charles Hinga accompanied by Governor Lee Kinyanjui yesterday laid the foundation stone for the 605 housing units in the low income establishment.
"This is the first affordable housing project outside Nairobi where success has been registered. The project will be completed in the next 30 months and sold to residents at subsidised cost," said Hinga.
Unlike in the Nairobi's Park Road project which was financed in a hybrid system with a payment guarantee from the government, the Nakuru project will be financed by a private developer, Kings Sapphire.
In a bid to ensure that the houses remain affordable, the government has entered into an agreement with the developer that the cost of land should not be factored in the price of the houses.
Out of the 605 units, 45 are one-bedroom, 180 two-bedroom and 380 three-bedroom.
"A one-bedroom unit will be sold at Sh1.55 million, Sh3.15 million for the two-bedroom and Sh4.25 million for the three bedroom units. The project will sit on 7.5 acres," added Hinga.
The PS added that initial owners will be barred from selling their units immediately after purchase to ensure the prices do not skyrocket and thus lock out the low income earners.
"New homeowners will be expected to live in their houses and will not be allowed to sell them before the lapse of eight years to avoid speculation on these units," he said.
He urged Kenyans to register for the upcoming housing projects in different parts of the country.
Governor Kinyanjui said the project will go a long way in transforming the lives of the locals who will be directly and indirectly employed as the project is being undertaken.
"This project will rewrite the history of Bondeni which has been synonymous with crime and joblessness," he said.
Nakuru County Commissioner Erastus Mbui noted that a sizeable number of youths have already been engaged in the ongoing mega projects in the vicinity of the slum.