Matuu Police release Standard journalists, 7 others unconditionally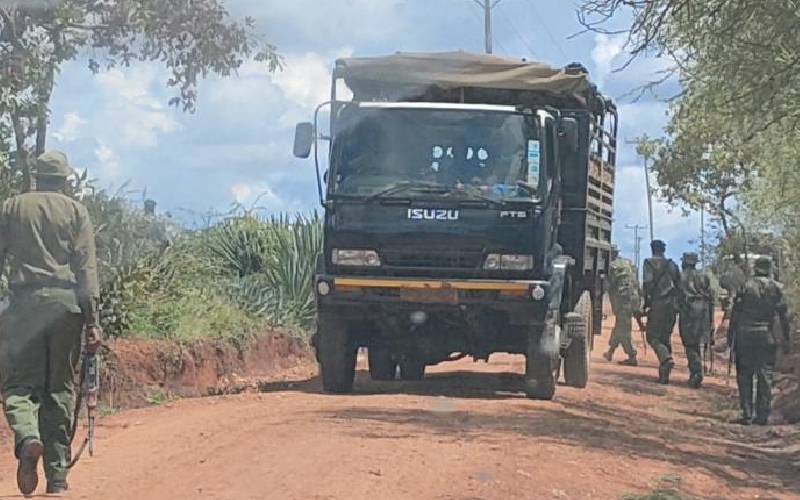 Two Standard Group journalists and seven others working with various media houses were Saturday night released from Matuu Police Station where they had been detained together with Mbeere South MP Geoffrey King'angi.
The journalists had been arrested while covering demolitions at the Bondoni area of Makima Ward in Mbeere South Subcounty.
The Journalists were; William Kamau and Muriithi Mugo (Standard Group) Peter Mungai (Citizen TV), Dennis Fundi (Meru TV), Dan Ngari (UTV), Mary Wangari (Coro FM), Felix Ndambuki (Athiani FM), Brian Musyoka (County FM), and Josphat Mukundi (a freelancer with Wimwaro FM).
"Hell broke loose when armed police officers in uniform found the journalists recording area MP Geoffrey King'ang'i as he was listening to residents after the demolition of their houses," said journalist Brian Marira.
The journalists said despite showing Standard Group identification badges and Media Council accreditation cards, the police descended on them with kicks, blows, and truncheons before throwing them into a lorry where they were forced to lie faces down.
Any journalist who tried to lift his head was kicked, slapped and whipped with belts.
The area MP was not spared either and received numerous kicks as he asked the officers to give him time to climb the lorry.
He tried to block a fist and was attacked by a dozen officers at the rear of the police truck.
The MP refused to lie down saying he had not committed any crime and if any, he should be taken to court.
This attracted the wrath of the officers who kicked him in turns.
"Shoot or kill me if you want I have not committed any crime but just meeting my people who have been evicted and have nowhere to go," protested King'ang'i.
"While we lay head down the officers made a headcount by stepping on our heads and bodies with their muddy boots. One [of them] would walk on top of us and on reaching the last person, he would claim he had miscounted and do a repeat. All this time other officers continued raining blows on us," Marira added.
The journalists said they heard officers say 21 people were in the lorry and would be charged with burning houses and destruction of property.
The officers mocked the MP accusing him of not contributing to an increase in their salaries as a parliamentarian.
"At some point, the lorry stopped and we were told that you would only get out when your head was hit. One by one, we were frisked and money and phones confiscated before being bundled into a Land Cruiser and asked to lie again faces down," this reporter remembers.
The officers did not care about the lives as the journalists and other 21 people were asked to lie on each other amid blows and kicks. Some of the non-journalists complained of suffocation and were put in other vehicles.
At the Matuu Police Station, they were bundled into cells and asked to record statements before Embu County Police Commander Daniel Rukunga arrived and ordered their release at around 9pm.
On return to Mbondoni at night, the journalists found one of their cars intact but one had the rear window smashed. Upon inquiry, residents informed told them that a police officer smashed the window deliberately after their arrest.
The journalists are yet to receive their phones and cameras from the police.
The MP was later released on a cash bail of Sh50,000 and asked to report to the station on Sunday Morning