Western and Nyanza pupils among the top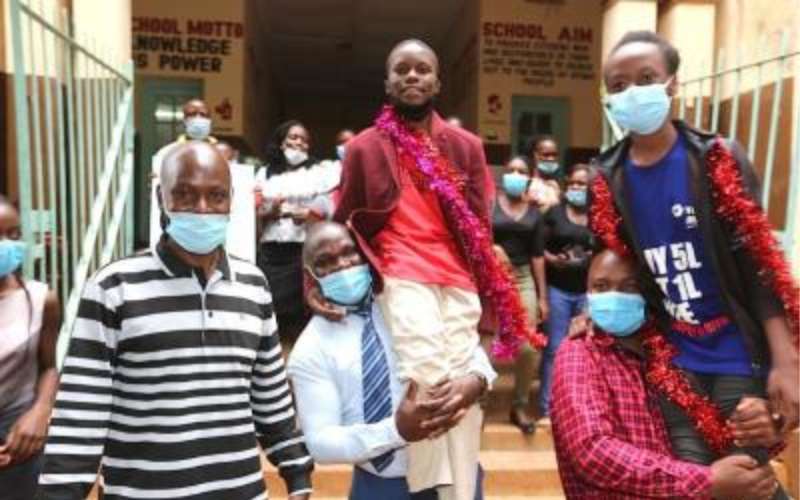 Teachers, candidates and parents in Nyanza and the Western region are celebrating after schools recorded good performance in last year's Kenya Certificate of Primary Education examination.
In Nyanza, the best pupil Angel Gakenia of Maseno Girls' Boarding School scored 432 marks to emerge second nationally. Castro Ong'onga of Crystal Hill in Kisumu was second in the region and fourth nationally with 431 marks.
And in Western, Nzoia Sugar Primary School in Bungoma County produced the fourth-best candidate in the country. Samuel Wanyonyi earned 431 marks. There was anxiety as teachers sought to know the full results through their mobile phones. At Xaverian and Lake primary schools, 10 candidates had already confirmed recording 400 marks and above. Victoria Primary School had six.
Most attributed the good results to dedication as well as support from parents during the Covid-19 pandemic. "Online lessons have proved beneficial," said George Polo, Xaverian headteacher.
Private primary schools once again topped in Kisii and Nyamira counties. Elimu Academy posted a mean score of 397 with 77 candidates up from 384 in 2019.
Excel Elementary in Kisii had a mean of 376. Top student Bravin Ouko earned 416 marks. Set Green Academy had a mean of 387, 18 scoring 400 marks and above.
At Imperial Primary, Alvin Seme, who scored 422 marks, dreams of joining Alliance High School and become a doctor. "I have a mission to help the sick in society after pursuing a degree in medicine at the university," he said.
Among those in public schools in Kisii who did well was Naom Okenyuri of Magena Primary School who attained 402 marks.
In Nyamira, Eronge Adventist Boarding was among the top with 32 candidates having confirmed to have scored over 400 marks. At the Royal Metropolis Academy, the best candidate scored 407. The top pupil at the St Catherine Rangenyo Girls' Boarding Primary Naisola Okari scored 401 marks.
In Homa Bay County, Ober Boys', Echoes of Mercy Christian School and Janeiro Junior Academy were among those celebrating the results. Polycarp Kiyondi of Ober was position 11 countrywide. He got 428 marks. At Echoes of Mercy, Fidel Odhiambo scored 412 marks while Fidel James Ogenga earned 404 marks. At Janeiro, Ouko Juliet scored 415 marks.
In Western, St Peter's Mumias Boys' produced the second-best pupils, Oliver Shema and Simba Mark Joe, who tied at 427.
Emanuel Changulo from Kakamega Primary School and Kibet Ndiema from Nalondo CBM in Bungoma scored 426 and 411 marks respectively, while Edgar Lukuma from St Peters managed 423 marks while Omino Byron from the same school obtained 422 marks.
Kenneth Ochieng was elated after his two children, Alvan Peter Dinda and Abigael Asaji got 414 and 410 marks, respectively at Mudasa Academy in Vihiga.
In Busia, Sharline Imarake and Elizabeth Osike from St Teresa's Chakol Girls' scored 403 and 402 marks, respectively.
Booker Academy Mumias posted good results as top pupil Blair Okuku got 425, Chelsea Chepkoech 422 and Orlando Perl 419 marks.
In Siaya, six pupils of Central Primary School scored 400 and above. In Siaya Township, the best pupil scored 410 marks.