Runyenjes Law Courts closed for seven days after 8 staff test positive for Covid-19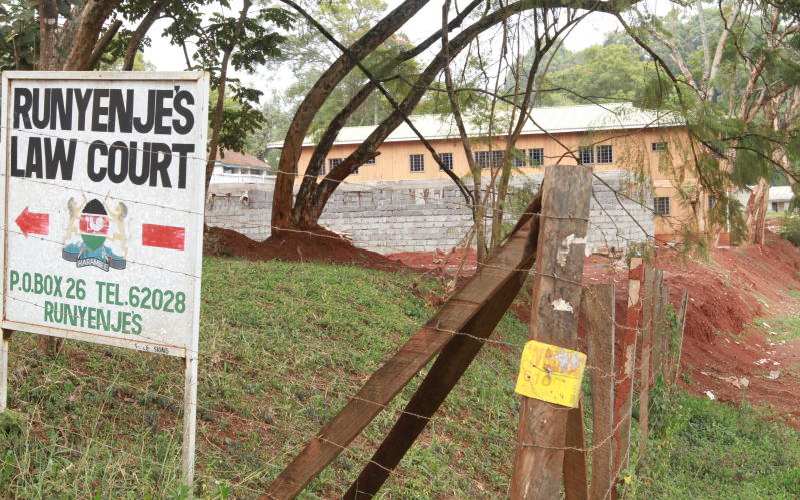 Runyenjes law courts have been temporary closed after 8 of its staff tested positive for coronavirus.
Acting Chief Justice Philomena Mwilu on Wednesday said the affected personnel have immediately self-isolated pursuant to Ministry of Health protocols.
Mwilu said eight out of the 18 Judiciary personnel at the courts tested positive for the virus within the last one week.
She said Ministry of Health officials were contacted and requested to urgently assess the situation at the court station.
Upon a visit to the facility, they recommended that the court premises be temporarily closed.
"They further recommended, inter alia, that all staff self-isolate within the period of closure, that all personnel undergo further screening for Covid19, and that the court premises be thoroughly disinfected and fumigated," she said.
Mwilu said the temporary closure will be key in controlling any potential further spread of the virus.
In light of the abovementioned developments, the recommendations from Ministry of Health officials in Embu County, the Court User's Committee at Runyenjes Law Courts, and upon consultation with the Presiding Judge of the High Court at Embu, we have arrived at the considered decision to temporarily close Runyenjes Law Courts for a period of seven (7) days from today, Wednesday, April 14, 2021," she said.
Mwilu said the closure will enable all personnel at the station to test for Covid-19 and self-isolate pursuant to the Ministry of Health
Covid-19 protocols, facilitate the required disinfection and fumigation exercise and contribute towards breaking the chain of transmission.
The acting Chief Justice said during the period of closure, all urgent matters for Runyenjes Law Courts shall be directed to Embu and Kerugoya Law Courts.
"We wish the affected personnel at Runyenjes Law Courts quickest recovery. We shall endeavor to resume normal service delivery at Runyenjes Law Courts as soon as circumstances allow and will provide updates as and when the same become necessary," she said.