Candidates in dockers election sell their agenda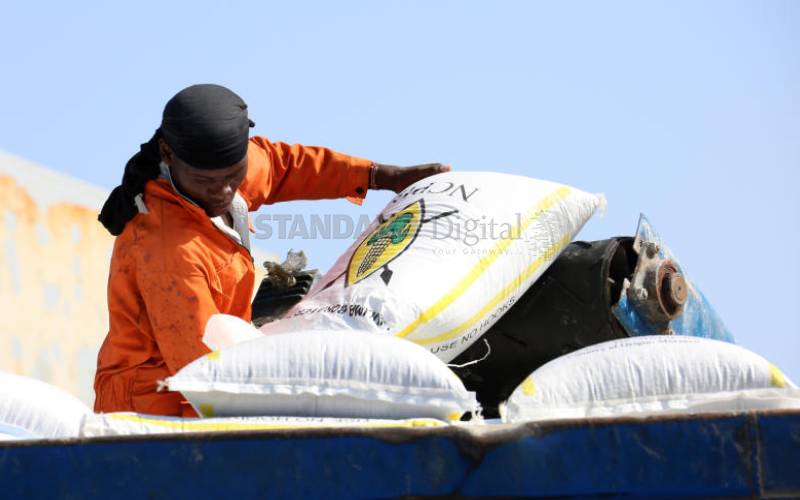 Campaigns for the port workers' union have gone full throttle with top contenders expressing hope of clinching the coveted general secretary's post.
Despite the Covid-19 pandemic, aspirants for the Dock Workers Union (DWU) general secretary have been meeting workers in small groups as they seek to oust incumbent Simon Sang, who has led the body for 15 years.
Some of the top contenders are Sang's former close allies who have turned against him because of the divisions that started way back in 2014. They have told the 4,400 members what they will do immediately after they win the election scheduled for next month.
A former chief shop steward, Renson Juma Thoya, who is enjoying the backing of chairman Mohamed Sheria, is seeking to replace Sang so as to reclaim port services that were given to private firms.
"I intend to fight privatisation through outsourcing of services and restore the union's lost glory. At the moment the port management has instilled fear among DWU members and they should be liberated by revamping the union," he said.
In the campaign, Thoya announced radical measures if he wins, including a review of the Kenya Ports Authority (KPA) charter to allow port managers join DWU and the amendment of the union constitution to limit the term of the general secretary.
"I want to have the KPA charter of 1980s reviewed to allow port managers enroll as union members because they have no representation. I will also seek to amend the union constitution and limit the tenure of the general secretary to two terms of five years each in line with the 2010 Constitution," Thoya said.
Thoya, who is the Mikindani MCA in Mombasa, was a close ally of Sang until July 2015 when he was sacked for participating in a strike over the National Health Insurance Fund strike at the port.
Abubakar Mohamed, who was sacked alongside Thoya, said he would ensure outsourcing of services, the overtime standoff and lack of promotions were all addressed.
"The most pressing issue for workers at the moment is overtime, which is restricted to only 30 per cent of one's salary and this is not adequate compensation for workers. KPA is paid by ship agents for extra time worked and this should be reflected in the pockets of port workers," he argued.
He claimed the union has been weakened since he left. "DWU used to be a giant union but it has lost its glory because of lack of solidarity," he said, adding that he will fight any plans to privatise any part of the port once elected.
Edward Opiyo, former head of container operations at KPA, said he wanted to use his 39-year experience at the port to revamp the union and boost the welfare of port workers.
"I have worked at KPA for nearly 40 years and served as a member of the union for 10 years. I want to use my experience to push for better pay in both salaries and allowances to boost workers' morale and increase port productivity," he said.
Opiyo said the management understood the risks workers undergo in the port environment and hence he would push for motivation of employees once elected.
Sang said he has managed to stop privatisation of the container terminal two at the port, adding that he will remain vigilant.
He said he will push for Mombasa, Kilifi and Kwale counties to set up an inland container depot at Mariakani so that port cargo can be held there while awaiting transfer to final destinations.
In a recent interview, Sang also said he was seeking a fourth term in office to strengthen the union and groom someone to take over from him.
Other aspirants seeking to unseat Sang are Said Chande, Alphaeus Aluoch, Jorum Kiilu, Ezra Okong'o, Fatuma Mbule, Majengo Warrah, and Siyat Abdullahi. Others are Harry Arigi, Omar Masumbuko, Moses Abebe, Kanga Maganga, Athman Athman, Mohamed Mabanda, Mohamed Ibrahim and Adenan Ondieki.