1.4m families face starvation over drought, food shortage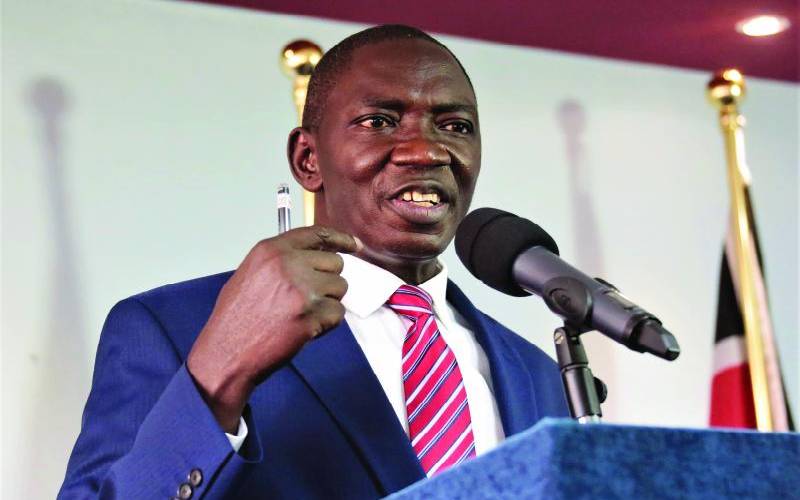 Close to 1.4 million Kenyans are staring at starvation amid a maize shortage of 5.5 million bags, Government Spokesman Cyrus Oguna said yesterday.
Projected annual production of maize last year was 43.2 million bags against an annual requirement of 47 million bags. This projection was not achieved as the country produced 41.5 million bags resulting in a shortfall of 5.5 million bags.
"The overall food situation in the country is good. However, due to poor performance of the short rains in October to December last year, the national food and nutrition security was marginally compromised. The situation has been compounded further by the Covid-19 pandemic and the desert locust invasion," said Oguna.
Col (Rtd) Oguna warned that the looming drought and depressed rains might frustrate efforts to combat Covid-19.
Fearing there might be insufficient food to feed Kenyans already facing vagaries of coronavirus and locust invasion, farmers have been urged to take advantage of the long rains to plant more crops.
Majority of those facing starvation are in Mandera, Turkana, Wajir, Garissa, Isiolo, Marsabit and Tana River counties, where the Meteorological department has predicted below average to no rain.
"Some parts of these counties including Marsabit, Tana River, Isiolo and Turkana are already experiencing drought stress," said Oguna.
Floods might also be experienced in Nyando, Budalang'i and Nyatike, while there is a likelihood of mudslides in Murang'a, West Pokot and Elgeyo Marakwet.
Despite the challenges posed by drought, food shortage, lack of clean water and floods, Oguna assured that the government will remain steadfast in safeguarding health and safety of Kenyans.
"The government is committed to ensuring no Kenyan dies due to lack of food. In collaboration with county governments, we have put in place several strategies to avert a humanitarian crisis. For instance, there are plans to distribute water in Turkana, Mandera and Wajir," said Oguna.
The government is urging farmers in areas that will receive above average rainfall to take advantage of subsidised seeds and fertiliser to produce more food to cushion the country from hunger.
"With the performance of the 2021 long rains season forecast to be poor, the situation is likely to dip a little and the number of those in need of humanitarian support likely to increase towards August 2021," stated the spokesman at a media briefing.
Nyanza, Western, Central and parts of Rift Valley and Eastern regions are likely to receive above average rainfall.
"Let them take advantage of the rainfall and increase crop acreage because currently over 1.4 million Kenyans are at risk of hunger; and potentially face acute food insecurity," Oguna said.
Steps being undertaken to avert a humanitarian crisis that might complicate the Covid-19 fight include distribution of water to households in Turkana, Mandera, Garissa and Wajir and provision of relief food in Turkana.
Cash transfer
The cash transfer under Hunger Safety Net Programme is also being carried out in Turkana, Mandera and Marsabit. The programme targeting 101,800 households ensures each family receives Sh2,700 stipend every two months.
Oguna revealed that there are plans to roll out the programme in Wajir, Isiolo, Tana River, Garissa and Samburu counties.
"Government has also provided subsidised seeds, fertiliser and a wide range of farm inputs to increase small-scale farms productivity. This programme targets more than 1.4 million farmers in 37 counties," he said, adding that Sh2.3 billion provisional budget has been set aside for relief assistance.
He asked farmers to take advantage of input subsidy to increase productivity. The cost of planting fertiliser ranges between Sh3,100 and Sh3,400 while for top-dressing, between Sh2,300 and Sh2,900.
Oguna advised farmers to obtain the inputs from authorised agro-dealers to avoid falling into the trap of buying substandard fertiliser and seeds.
He allayed fears of gloom, saying the government is in control. "The government assures Kenyans that the situation is firmly under control and that there should be no cause for panic. As a country, we have enough food stocks to support the population," said Oguna.
On locusts, Oguna said concerted efforts by the government in collaboration with county governments and development partners have resulted in significant reduction of swarms.
While urging patience and perseverance, he said government is aware many people, especially those driven out of business and employment, are suffering because of curfew, and movement restrictions aimed at containing Covid-19.
He said the containment measures are not meant to hurt but protect against the virus. "It is safer to endure pain in order to remain alive. So let's support the measures without interpreting them in negative light because they are meant for us," said Oguna expressing disappointment that some shopping malls and matatu operators have dropped their guard.
Players in the hospitality sector complained that the measures have rendered them jobless and accused the government of being insensitive to their plight.
Oguna reiterated that it is not in the interest of the government to hurt citizens with punitive policies or measures.
"It is therefore of utmost importance that we make it our everyday habit to wear masks, maintain social distance and wash hands or sanitise, failure to which all gains risk being eroded," he said.