Dock Workers Union bosses to get Sh6.6m send-off token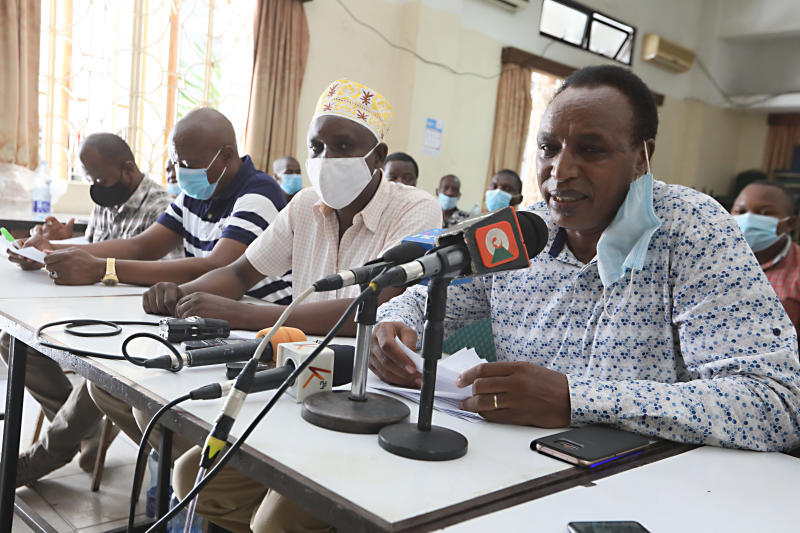 Members of the Dock Workers Union (DWU) are set to spend more than Sh10 million on the forthcoming elections and sendoff packages for the outgoing union officials.
The officials whose term comes to an end soon are to be given a Sh6.6m sendoff package for their services to union since they were elected.
Simon Sang, the DWU general secretary yesterday confirmed that the elections will cost members Sh4.3 million, adding that they might be forced to revise the sendoff package to half as the union doesn't have enough funds at the moment.
"The labour officers who will conduct our elections have given their budget.
"But we have a problem with the sendoff package for union leaders and we might be forced to cut it down by 50 percent," stated Sang.
At the same time, Sang confirmed the union's National Executive Committee (NEC) will have to pick another election date as Muslims will be celebrating Idd Ul Fitr on May 13 when the polls were to take place.
"We were advised to reschedule the elections to May 20 but this has to be ratified by NEC," he explained.
Three aspirants for the position of general secretary, had opposed the May 13 date.
Meanwhile, outgoing national treasurer Joseph Makero has objected to the Sh6.67m sendoff package which was approved by the NEC on September 16 last year.
"NEC erred in making such a resolution. This expenditure is not included in Dock Workers Union constitution article 19:7.
"If this package must begiven, then I suggest we refer it to a special conference for proper deliberations," Makero wrote to union chair Mohamed Sheria.
In the elections budget, Willy Kimani, the Mombasa County Labour Officer and chair of the polls board gave a breakdown of costs which included thermo guns, sanitisers and masks.
Polling stations
The elections will be conducted in all Kenya Ports Authority (KPA) stations in Mombasa, Lamu, Naivasha, Nairobi, and Kisumu.
The election board will hold 16 meetings where the chair, secretary and seven board members will be paid Sh840,000.
The chair will get Sh160,000 and the secretary Sh120,000 for attending meetings.
In addition, the poll officials will collect Sh1,555,000 in allowances for conducting the elections.
The returning officer will be paid Sh50,000, deputy returning officer will get Sh35,000 while presiding officers will walk away with a total of Sh275,000.
The deputy presiding officers will earn Sh165,000, clerks Sh880,000, while security officers will be paid Sh150,000 according to the budget.
Transport of poll officers from Mombasa to Nairobi, Naivasha, Kisumu and Lamu will cost Sh320,000 while their meals and refreshments will cost Sh204,000.
Ballot boxes and voting booths will cost Sh136,500 while the cost of printing of ballot papers was placed at Sh468,000.
Transport of ballot papers to polling stations will cost Sh50,000 while ballot boxes and booths will cost Sh20,000. Ten clerks who will stamp ballot papers will be paid Sh3,000 each.
The election board plans to transport the election officials in six buses at a cost of Sh180,000 and hire a public address system at Sh30,000.
In the budget, Sh160,000 has been set aside for acquiring thermo guns, sanitisers, masks, tonners, general stationery and marker pens.