World famous granny was humble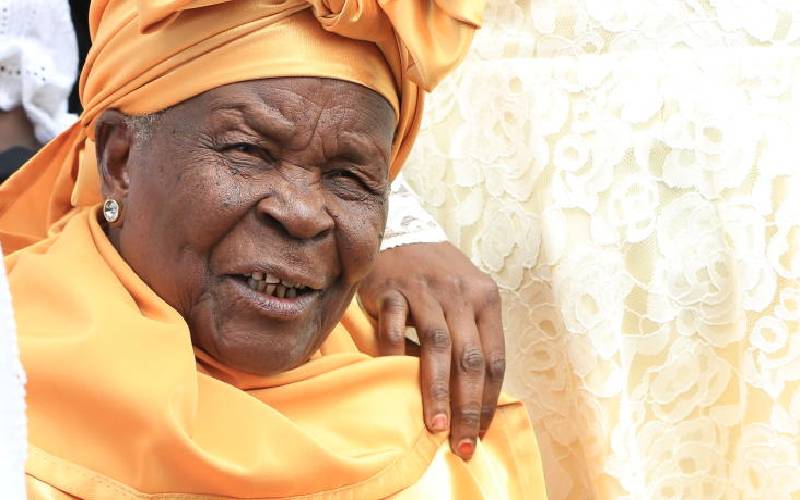 "She was a down-to-earth person," these were the words of Hussein Obama Suleiman when asked to describe Mama Sarah Obama, who died on Monday.
When her grandson Barack Obama became the most powerful person in the world in 2009, it did not show on her face. In many instances, she wondered why people were kept away from her.
A police station was built at her gate, and three police houses inside her compound. She even had an armed bodyguard, but she still tried to force her way into the farm, which had been her source of livelihood for decades.
Her life changed from a pedestrian to a motorist, and from a member of the congregation to the high table.
She could have decided to change her residence to a posh home in Nairobi's Runda, away from the dusty Kokoth village in Kogelo, but she chose to remain with her people and only visited the capital city upon invitation.
This was the life of the village girl born in Wagwe in Karachuonyo, Homa Bay County 99 years ago, and married just across in Kendu Bay before her husband, Hussein Obama, moved her to Kogelo in Siaya County.
Suleiman, Sarah's brother, had the opportunity to live with her from his tender age, and shared last moments with her.
"When I was born, she (Sarah) named me after her husband Hussein Obama, and as soon as I was old enough, she requested that I visit her," said Suleiman.
This is how his close relations with his sister began, and for the more than four decades they shared, he saw the Sarah who struggled to make ends meet by selling fruits and vegetables, and the Sarah known to the world as the grandmother of US President Obama.
Curtain falls
On Monday, the curtain fell on the woman whose work in the community will remain imprinted in the lives of not only residents of Kogelo, but also many others from across the country, who reached out for her hand in her heydays.
As 'mama mboga' (groceries seller), she always had surplus for the less fortunate.
Given the location of her home close to Nyang'oma Primary School, pupils always found their way into her compound to ask for drinking water. She gave them food instead.
She juggled between a number of small businesses, which kept her busy. She took vegetables and fruits from Kogelo to Kisumu, and after selling, she would buy sweets to sell back at Nyang'oma school together with mandazis and porridge.
Her last-born sister, Mwanahawa Abdala, who also lived with her, described Sarah as a "woman of the people".
"I lost my husband when I was still young in marriage, and Mama Sarah took it upon her that I raised my seven children. And she did this to many other people who could come to her to seek food, as she was a very hard-working farmer," said Abdala.
Sarah's fifth-born Said Hussein's description of her mother was no different.
"Power corrupts, and absolute power corrupts absolutely; but this never happened with my mother, who kept her door open for all," he said.
According to Said, they lived a normal, quiet and private life until 2004 when Obama became a senator in the United States.
He said despite their status changing, and the people's perception on them changing, the family remained the same.
The only change notable in Sarah was her frail body due to old age, and her expansion of the philanthropic work she had been doing quietly in the village.
At their Kokoth clan, Sarah's stands as the only Muslim family, surrounded by Christian friends and relatives.
Vitalis Awandu, Sarah's nephew, who also chaired her funeral committee, says it was not easy to know Sarah was a Muslim.
"She never segregated people on religious lines. People thronged this home, ate and got whatever they wanted. And even after her status changed, she still welcomed people," said Mr Awandu.
Awandu and two other people from Obama family accompanied Sarah to the US in June 2005 to witness Obama's win following his first attempt in an elective position.
Said said the trend was seen to have changed after a number of people began taking advantage of Sarah to irregularly earn money from across the globe.
Private information
"Not very many people could understand that there was Obama family and the US Presidency, and some people could come to ask for some private information," he said.
On Monday, President Obama said: "During the course of her life, Granny would witness epochal changes taking place around the globe: world war, liberation movements, moon landings, and the advent of the computer age.
"She would live to fly on jets, receive visitors from around the world, and see one of her grandsons get elected to the United States presidency. And yet her essential spirit — strong, proud, hard-working, unimpressed with conventional marks of status and full of common sense and good humor — never changed."