No pomp as Mama Sarah is laid to rest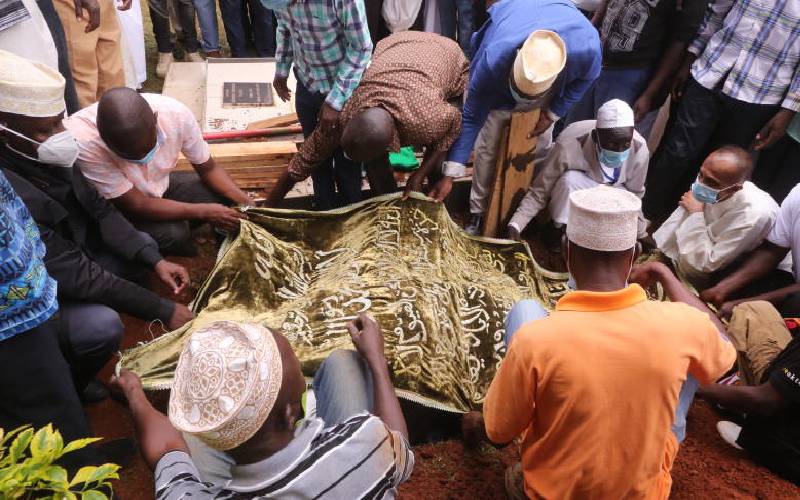 When the news of Mama Sarah Obama's death broke on Monday morning, social media was awash with messages of condolences.
In Kisumu, residents thronged the Jaramogi Oginga Odinga Teaching and Referral Hospital where her body was.
Sheikh Musa Ishmael, the chair of Kisumu Muslims Association, led the prayers before mourners were allowed to view the body.
Back at her home in Kogelo village, disbelieving residents trooped into the compound.
Their visit was, however, short-lived because by the time the body arrived at 12.45pm, police officers had ordered them to leave.
County Commissioner Michael ole Tialal broke the news: only close family members and a few guests would be allowed to attend the burial ceremony.
A meeting chaired by Vitalis Awandu was thwarted after Tialal directed that mourners would not be served any food in the home.
By then, people had started contributing and a tentative budget drawn up to buy food for the mourners.
"We have so many guests, some of them coming from Kendu Bay, Mama Sarah's home, and we cannot let them leave hungry.
"We will find a way of giving them something to eat," Awandu had said on Monday.
But this did not happen.
And neither did the other rites common in funerals of prominent people in the Luo community.
By 6am yesterday, police officers had mounted three blockades on the roads leading to the home of Mama Sarah.
Friends, relatives and villagers without special passes who found their way into the compound were ordered out.
Elderly men and women spent hours outside the gate pleading with police officers to allow them in, citing their close interactions with Mama Sarah.
"Sarah always welcomed everybody while she was alive, and now in her death the security is blocking us from seeing her body.
"I believe she would not be happy to witness this," said one woman who pleaded for hours to be allowed in.
Foreign Affairs Cabinet Secretary Raychelle Omamo entered the compound at 10am.
She was followed by governors Anyang' Nyong'o of Kisumu and Cornel Rasanga of Siaya.
The leaders came with lean teams, a stark contrast to the convoys and crowds that accompany them on similar occasions.
Speeches had started by 11am and a few family members were given an opportunity to address the gathering.
This was followed by leaders' speeches, with Ms Omamo reading President Uhuru Kenyatta's condolence message to the Obama family.
By quarter past noon, the service was over.
Sheikh Musa said the final prayers before the body was taken to its final resting place.
Villagers could be seen craning their necks to catch a glimpse of the goings-on.
But there was no plume of smoke from the kitchen or expansive tents where guests could have meals.
No women were allowed at the graveside in compliance with Islamic norms.
Sarah's body, wrapped in a white shroud, was lowered into the grave where it was received by close male family members.
And in less than 30 minutes, the ceremony was over.
The gate was left wide open for guests to leave when they wished.
Even then, the police still restricted entry.
The family said they had followed Sarah's burial wishes.
"Mama was happy about the Muslim way of burial, and despite having so many Christian relatives, she asked to be accorded this kind of burial," said Hussain Said, Sarah's son.
"When she was alive, she asked me to bury her according to Islamic rites.
"I have fulfilled that wish today," Sheikh Musa said.
But from the despondent faces of villagers, it was evident they had not seen off Sarah in the best way they would have wished.