Sonko's lawyer stages protest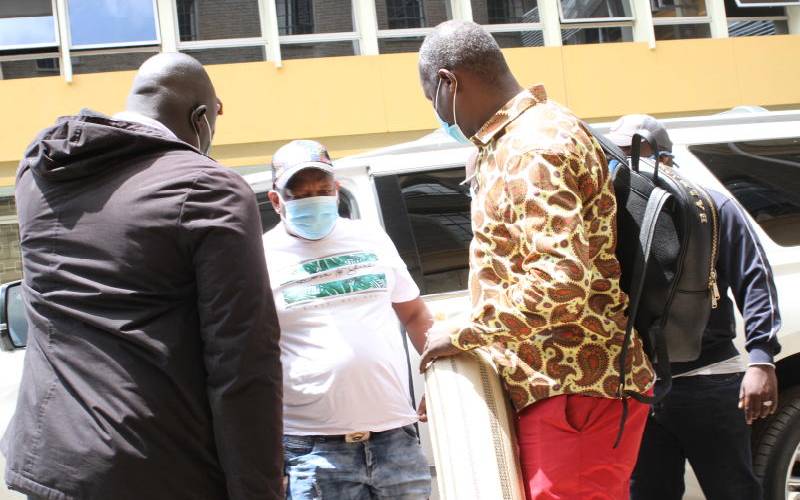 Veteran lawyer John Khaminwa yesterday stormed out of the courtroom to protest a magistrate's refusal to adjourn a graft case in which he is representing former Nairobi Governor Mike Sonko.
Chief Magistrate Douglas Ogoti had ruled that the case must proceed and and Khaminwa walked out claiming that the magistrate had a predetermined opinion to convict the former governor.
"I made an application for the case to be adjourned on health grounds given that Sonko was directed to have 14 days bed rest after being discharged from hospital but the magistrate refused. It would have been of no use sitting in a court where the magistrate seems to be biased," said Dr Khaminwa.
Khaminwa said Sonko should have been allowed to undergo 14-day isolation after his co-accused in a case where he is charged with terrorism tested positive for Covid-19 last week.
He claimed that the way the anti-corruption magistrate was conducting the trial against Sonko was highly prejudicial. He added that they have filed a complaint at the Judicial Service Commission against the decision by the magistrate to conduct the proceedings even at night.
"I told him I will not sit in court to hear the case against our wishes. He was not even bothered that some of us might have been exposed to Covid-19, having been with the ex-governor and interacted with his co-accused who tested positive for the virus," said Khaminwa.
Treated unfairly
Ogoti was however not deterred and proceeded with the hearing in camera. Journalists were barred from the session since a protected witness was testifying.
This was the second time Sonko's lawyers were walking out of the case. His former lawyers Cecil Miller and George Kithi abandoned him on claims that the magistrate was biased.
Sonko had also previously made an application for the trial magistrate to recuse himself from hearing the Sh10 million graft case.
Sonko said the magistrate had treated him unfairly by allowing some witnesses to testify in camera, conducting proceedings until late in the night, giving contradicting orders in favour of the prosecution and declining to give his lawyers adequate time to prepare.
But Ogoti last week ruled that the allegations were unfounded and were only meant to intimidate and scare the court.
Sonko is facing the charges alongside Fredrick Odhiambo and Antony Ombok and their companies Yiro Enterprises and ROG Security Limited.
They are accused of conspiracy to commit corruption, conflict of interest, money laundering and acquisition of proceeds of crime.