Church urges Uhuru, House to fully constitute IEBC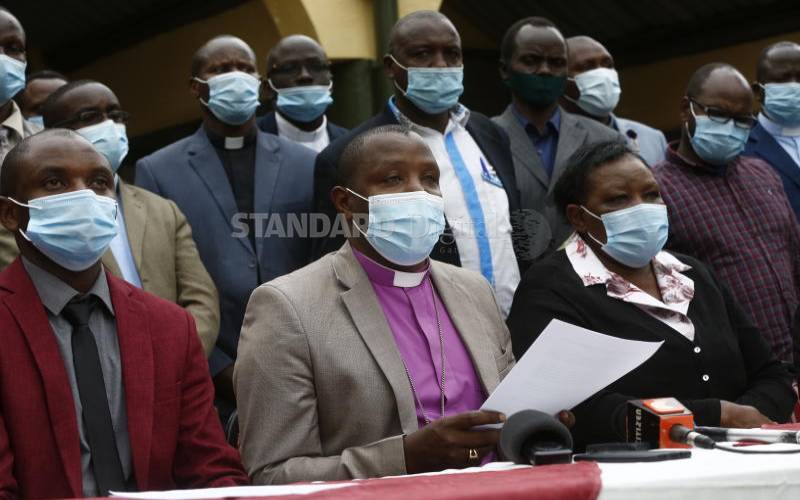 Church leaders now want President Uhuru Kenyatta's administration and Parliament to fully constitute the electoral agency ahead of the 2022 General Election.
Through the National Council of Churches of Kenya (NCCK), the clerics who spoke in Nakuru, said failure to have a fully constituted Independent, Electoral and Boundaries Commission (IEBC) showed lack of preparedness for the next polls.
Led by NCCK South Rift chair Reverend Ernest Ngenoh, the clerics warned that lack of prior preparedness is likely to have consequences on the country's peace.
"Our region has experienced elections related violence in the past and we do not wish to go through the same experience again. We call for urgent appointment of all commissioners of IEBC," said Ngenoh.
The commission has only had three commissioners; Chairman Wafula Chebukati and commissioners Abdi Guliye and Boya Molu since April 2018, when three others resigned.
The trio, Paul Kurgat, Margaret Mwachanya and Consolata Maina quit their jobs and were in October 2020 appointed to ambassador positions in Russia, Pakistan and Italy respectively.
Another commissioner, Roselyne Akombe resigned and left the country in October 2017 at the height of the disputed August 8 presidential elections.
And in April 2018, Chebukati sent IEBC chief executive officer Ezra Chiloba on compulsory leave to allow an audit of the 2017 election financial processes. He is yet to be reinstated.
"We have slightly over a year to the next polls yet the shortfalls in the commission haven't been addressed. The process should start now," said Ngenoh.
The clerics further called on politicians to avoid making political statements that may trigger animosity among Kenyans and urged relevant agencies to crack the whip on those spreading hatred.
Church leaders were asked to stop seeking financial support from politicians to avoid giving in to their demands.
"We encourage churches to avoid asking political aspirants for donations during the referendum or 2022 elections. When you do, they in return ask for opportunities to speak to congregants which is highly inappropriate as they use foul language and politick in church," he said.
Noting that the NCCK is conducting civic education on the Constitution of Kenya (Amendment) Bill, 2020, the clergy urged Kenyans to participate in the process terming it crucial for the country.