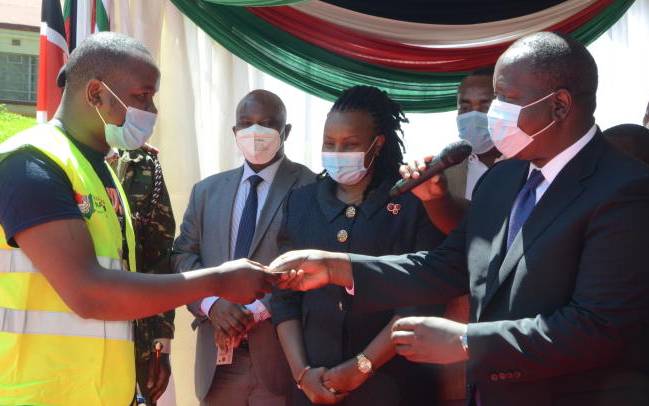 You will be unable to access government services by December 12, next year without a Huduma Namba card, ICT Cabinet Secretary Joe Mucheru now says.
Mucheru said yesterday the government plans to roll out a bulk distribution of the cards by next month, which will progressively lead to the phasing out of national identity cards.
The CS said some two million Kenyans are expected to be issued with the cards next month, with the number expected to increase to five million by February next year.
A total of 37.7 million Kenyans were registered in the exercise launched by President Uhuru Kenyatta on April 2, last year under the National Integrated Identity Management System (NIIMS).
The president said then that Huduma Namba was meant to harmonise and standardise citizens' personal data into a single number for efficient service delivery.
"Within one year the government is going to make sure you have received your Huduma card to enable you get services," Mucheru said in Machakos.
The CS, who also launched the issuance of the first batch of 120 cards to residents of Machakos County, said the government had laid out logistics to ensure millions of cards whose distribution will officially start on December 1 were issued out in line with the prescribed Covid-19 health protocols.
He said Kenyans who had registered will first receive an SMS notification on their mobile phones, notifying them of the date and place to collect their cards.
Mucheru allayed fears on personal data security, maintaining that the government had adhered to the laid down regulations and policies to ensure individual details were safe and tamper-proof.
Speaking in Kiambu County at a similar event, Interior Cabinet Secretary Fred Matiang'i urged Kenyans to acquire the card, saying it aims at curbing corruption.
The CS led the rollout of Huduma Namba card distribution at the County Commissioner's office, where he asked the residents not to fall prey to the "myths and untruths" linked to the process.
"Let us be honest, Kenyans are suffering. When seeking services at a government facility you are told to bribe someone for you to be assisted. We want to end all this nonsense through the Huduma Namba card," he said.
Mandatory
Matiang'i said it will be a daunting task for those who will not have registered to acquire government services.
He said the project was not a sole government initiative, but rather one that Kenyans should adopt to ensure the betterment of service delivery.
In October, the government released a Gazette notice, saying it was mandatory for every Kenyan to register for Huduma Namba.
The new rules, which are already before Parliament, state that upon registration one will be issued with a Huduma card, a digital multi-purpose identity card.
This means the card will make all other identification documents obsolete as the unique personalised number will be permanent to the person and serve as proof of identification.
Data Commissioner Immaculate Kassait pledged to safeguard data of every Kenyan and asked anybody with complaints to notify her office for further clarification.
"Government is leveraging on digital information through ICT services such as e-citizen, e-occurrence book, digitisation of registries and e-judiciary, among others, which are meant to enhance planning and service delivery," she said.
Mucheru said the government had addressed all legal concerns that had slowed the process of issuing the cards, following cases filed in court to suspend the NIIMS programme.