Idd celebrations with a difference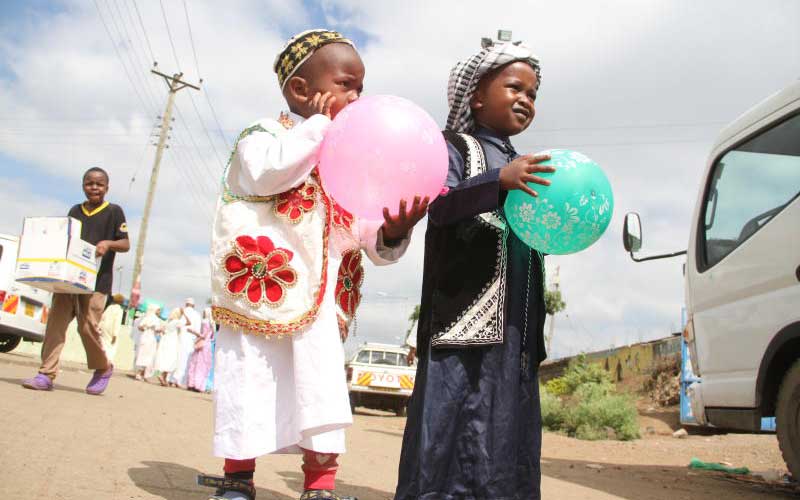 Muslims in Mombasa held family prayers in their homes to mark the end of the holy month of Ramadhan yesterday.
Faithful were careful not to go against the Ministry of Health guidelines that included avoiding gatherings to contain the spread of coronavirus.
Residents and leaders said they prayed and had breakfast with their spouses, children and members of their extended families, the first time Idd-ul-Fitr, an event usually marked with colour and splendour, was that low key.
Open grounds like Ronald Ngala in Mombasa that usually hosted hundreds of faithful during such prayers had only two men praying at 8am.
Mombasa Governor Hassan Joho and Mvita MP Abdulswamad Nassir were among leaders who celebrated Idd with their families. Mr Joho usually attends communal prayers at open grounds.
"Governor Joho was among those who prayed with their families at home," a county communications officer said yesterday.
Sheikh Mohamed Khalifa, coordinator of the Council of Imams and Preachers of Kenya (CIPK), said Idd and the entire holy month of Ramadhan were based at the family since they prayed together.
"This is a historic moment for Muslims and Christians; they cannot have the usual communal prayers. We Muslims have observed family Idd prayers today. It is necessary to strictly adhere to the Ministry of Health guidelines to fight the coronavirus," he said.
Sheikh Khalifa asked Muslims to pray for peace and God's help in the wake the Covid-19 pandemic, floods and economic challenges.
Supreme Council of Kenya Muslims (Supkem) Coast chairman Mohdhar Khitamy said it was a good experience to stay home and pray with family members.
"It was a family Ramadhan and Idd because we always prayed together and it was fantastic, although I missed the communal prayers in the mosques and other places. We hope the mosque prayers will resume soon," said Sheikh Khitamy.
He appealed for mobile testing for Covid-19 and intensified civic education by health experts as opposed to politicians.
"Politicians should stop the threats of lockdowns because this creates stigma, particularly to residents of targeted areas. Instead, health experts should lead in the civic education," he said.
In Majengo, one of Mombasa's highly populated residential areas, scores of families prayed together instead of heading to mosques or open grounds for the annual prayers.
At the home of Layi Khamis Jabber, a director with one of the key tourism agencies, the thought of praying together as a family was the best thing ever to have happened.
"Since I got married over a decade and a half ago, we have never prayed together with my husband. This year's Idd prayers have made that possible and I thank Allah for seeing us of all through despite the Covid-19 pandemic," Ms Layi said.
She added that they had prepared their children well in advance not to expect all the pomp that goes with Idd celebrations.
"They are aware that this time round there shall be no merry making as we are just staying indoors and avoiding places outside our homes with congregations. Government directives through the Ministry of Health have to be taken seriously to contain coronavirus," she said.
For Khadijah Jaber, another Majengo resident, despite having fasted for 30 days with various restrictions in place, she was grateful and thanked Allah for enabling them partake in the Islamic ritual.
"It is through God's mercies that we have managed to observe this month of Ramadhan under very difficult circumstances. A day like this is, however, devoid of hugs, handshakes and sharing meals and gifts as we try to observe social distancing," Ms Khadijah said.
Said Mathias, a former civic leader with the defunct Mombasa Municipal Council, said Idd was supposed to be a season of joy for all Muslims, but this year's fete did not bring much joy.
"This time round, we are finding ourselves facing stringent lockdown measures. We were unable to go to mosques to pray as is the norm and cannot carry other traditional practices that go with Holy month of Ramadhan like large gatherings, gift giving and sharing hearty meals. It is very tough for us believers," Mr Mathias said.
He added that it was sad to see some of their brothers and sisters who live in Old Town, Mombasa and Eastleigh in Nairobi prevented from leaving their estates.
"These are very tough conditions. Movement has been curtailed and for us this is not something to be happy about," he said.
The usual packed places where Muslims and other Mombasa residents and visitors used to flock like the Jomo Kenyatta Public Beach and Mama Ngina Waterfront were empty after they were ordered closed after coronavirus was detected in the country in March.