Priest to be held for two days for spreading virus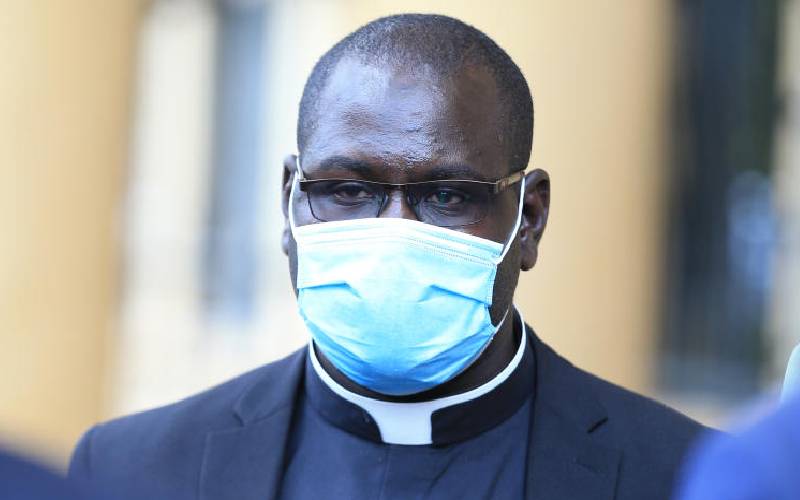 A catholic priest will spend two more days in police custody after a magistrate declined to release him on bail over claims that he helped spread coronavirus.
Fr Richard Onyango recovered from the virus on Thursday last week after being admitted at Kenyatta National Hospital for three weeks.
According to court documents, he is said to have put the lives of many people at risk by refusing to go into self-isolation after arriving from Rome, Italy.
Nairobi Senior Principal Magistrate Martha Nanzushi yesterday ruled that the spectre of coronavirus is a matter of national interest and the prosecution should be allowed more days to complete investigations.
"It is a matter touching on public interest which outweighs the priest's individual right to be released on bail," Ms Nanzushi asserted.
"I will grant the prosecution's request to detain him for two days pending formal charges against him."
The prosecution wanted the priest detained for five days to give it time to collect evidence from people he interacted with in Nairobi, Kisumu and Siaya counties.
Police investigator John Likuru in an affidavit supporting the application for detention claimed that Onyango is likely to flee the country to South Sudan, where he serves as a priest, or back to Italy where he is a student at St Anselmo Pontifical University.
"He is also likely to interfere with witnesses who are his juniors at the parish," "Coronavirus is a serious public health emergency which has caused fear. This justifies the need to put him in detention," swore Likuru.
Onyango's lawyers had opposed the application for detention arguing that he cannot flee the country due to the current lockdown in Nairobi.
The priest is said to have gone to Utawala Catholic Parish in Nairobi on arrival from Italy and proceeded to Kisumu on March 13 through public means.
On March 14, the prosecution said that Onyango proceeded to Ugenya and later to his parents' home in Ambira before going to Sega Parish.
He went back to his parents' home on March 16 before travelling to Kisumu where he took a flight to Nairobi. He stayed at Utawala until March 20 when he developed Covid-19 symptoms. A test at Mbagathi Hospital proved he was positive.