Shield our local contractors from competition - Senators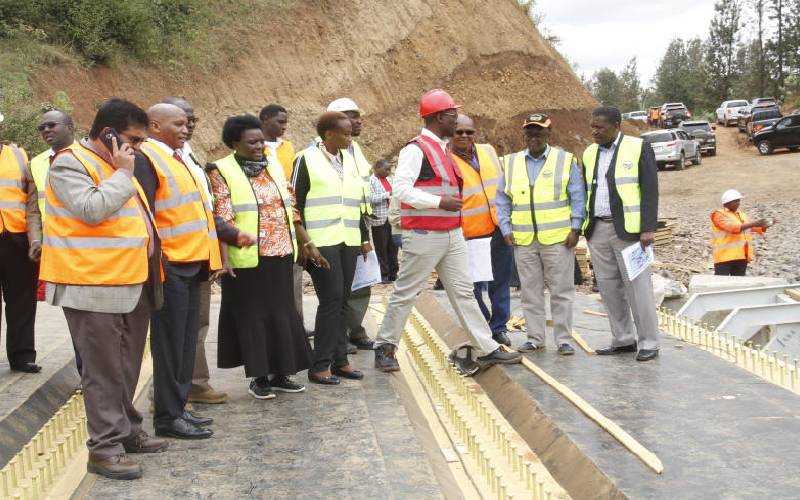 Senators have called for laws to protect local contractors against unfair competition from foreigners, especially Chinese firms.
While analysing a report on the progress of the Kibwezi-Athi-Mutomo-Kitui road project, the lawmakers complained that Chinese companies are enjoying incentives, including tax relief, whenever they win contracts in Kenya.
"When a Chinese company is given a contract to build a road in Kenya, every piece of equipment it brings in -- be it an excavator, a tractor or a lorry -- is duty-free," said Kiambu Senator Kimani Wamatangi.
Mr Wamatangi said the uneven playing field between local firms and their foreign peers was hurting the latter.
"This is the reason the government has ended up labeling every Kenyan contractor a cowboy contractor," he averred.
Wamatangi told the House a moderate truck which is used in construction costs about Sh10 million in Kenya.
A Chinese contractor can ship in his for Sh4 million.
"The lowest cost for a good grader right now is about Sh22 million. A Chinese will bring it here for less than Sh10 million. If a Chinese brings in a simple item like a generator, he will pay less than half the price and yet they are expected to come here and compete with Kenyan contractors," complained Wamatangi.
The Kibwezi-Athi-Mutomo road is being constructed by a Chinese firm at a cost of Sh18 billion.
There have been concerns about the heavy presence of Chinese contractors in the Kenyan market, some taking up projects that local contractors can easily implement.
In 2018, Mathira MP Rigathi Gachagua said he would draft a Bill to bar foreign firms from bidding for government tenders valued at less than Sh1 billion, to increase the participation of local firms in State projects.
Bungoma Senator Moses Wetang'ula criticised what he termed as unfavourable conditions that local contractors are facing compared to their Chinese counterparts.
Mr Wetang'ula said Chinese firms are bidding for nearly every project, some valued at less than Sh100 million, edging the locals out.
"This country has now literally become a Chinese colony. There is absolutely no justification to have Chinese truck drivers in Kenya," he said.
He called on President Uhuru Kenyatta to take affirmative action measures to help local contractors.
"I urge Uhuru and his government to protect Kenyan firms from competition so that they can create wealth. When people generate wealth, the temptation for corruption goes down," Wetang'ula noted.
Senators Enoch Wambua (Kitui), Gertrude Musuruve (nominated), Agnes Zani (nominated) and Steward Madzayo (Kilifi) all called for the protection of local contractors.
Mr Wambua and Ms Zani called on the National Land Commission and Kenya National Highways Authority to promptly compensate residents whose houses were demolished to pave way for the road project.
Wambua told the House that despite residents making a request to the contractor that he should at least build a bus terminus for them, their request had been ignored.
He said although over 100 kilometres of the road has been tarmacked and was ready for use, residents who provided their land for the road construction were yet to be compensated.
"There must be a way of getting the government to compensate Kitui people who gave up their land for the road," Wambua said.