We will flush al Shabaab out of Kenya, US envoy affirms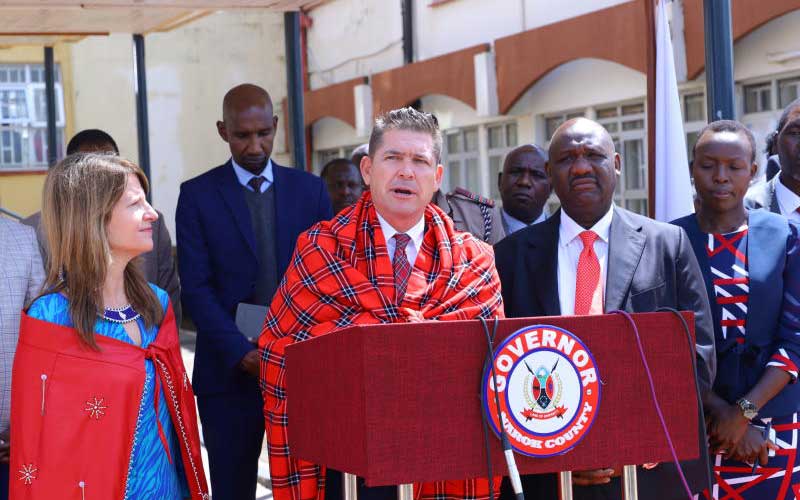 The United States has today vowed not to relent in their support of Kenya's counter-terrorism exercises.
US Ambassador Kyle McCarter reiterated the commitment as the country observed the first anniversary of the DusitD2 terror ambush that killed 21 people.
He was speaking Narok, after paying a courtesy call to the area governor Samuel Tunai, saying the US will never backtrack in the fight against the al Shabaab.
"As Kenya commemorates the loss of 21 lives at the DusitD2 hotel, we want to affirm that as the US, we are not going anywhere in the fight against terrorism which is a global problem. We are determined to drive them out of Kenya," said McCarty.
McCarty condemned the recent terrorist attack at a joint US-Kenya camp in Manda Lamu County where three American army officers were killed by al Shabaab insurgents.
"We condone with the families of the three US solider who were killed recently in Lamu. The US government will continue supporting Kenya Defense Forces (KDF) in decimating these criminals," he added.
He reiterated that security was paramount in Kenya and that with a beefed-up security, the economy will be boosted from increased tourism earnings.
Corruption
The envoy also called on the Kenyan government to ensure that runaway corruption is wiped out to restore foreign investor-confidence.
Area Governor Samuel Tunai who was accompanied by his Deputy Evalyn Aruasa hailed the Kenya-US ties terming it as major boost to the country's tourism.
The Governor, who is also the Tourism Committee Chair at the Council of Governors, said 2.4 million Americans visited Kenyan destinations in 2019.
Mr Tunai also pleaded with the US government not to be quick in issuing travel advisories to her citizens over security concerns, asking that they be specific to areas and not the entire country.
"The world-famous Masai Mara Game Reserve is safe and will always be safe. As the US and other countries issues advisories, they should exempt us as our county has always been safe," said Governor Tunai.
He asked McCarty to woo investors in the processing sector to come and add value to livestock, wheat and barley produced in his county.