Trio bags Africa award for turning used diapers into clean energy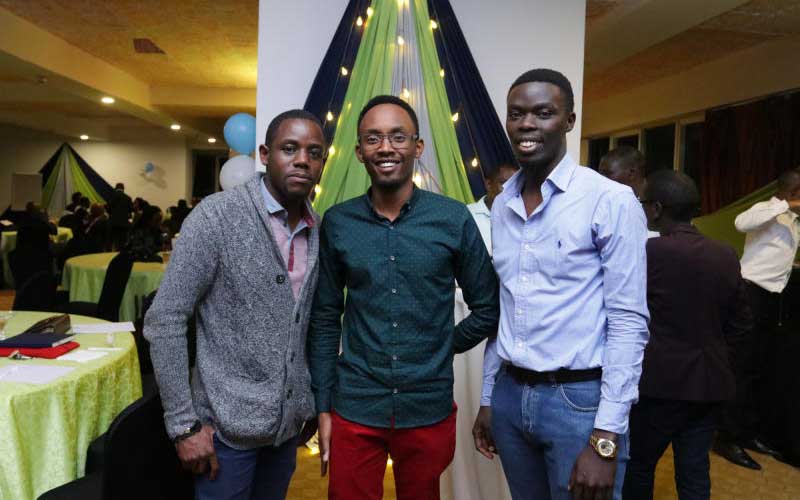 From laboratories and lecture rooms at the University of Nairobi, a close friendship was brewed out of a common interest in Nanochemistry between Peter Gachanja, Dennis Wachira and Melvin Kizito. But something bigger was also born.
On October 11, the three Chemistry graduates emerged winners in the African edition of the Climate LaunchPad (CLP) competitions for coming up with an innovation that turns used diapers and sanitary pads into cooking fuel.
Leafy Ke, as the group calls its startup, beat 29 other finalists from across Africa in the award ceremony at the Kenya School of Monetary Studies and walked home with $2,000 (Sh200,00) in cash prize.
In second place was Sabon Sake, an agribusiness enterprise from Ghana, while an affordable sanitation solution -- Susamati -- from Mozambique was third.
Next month, the three clean-tech enterprises will represent Africa in the Global Grand Finals in Amsterdam, Netherlands.
"I had an idea of recycling waste. It kept evolving. We did research together in campus," says Wachira, the originator of the idea and Chief Executive Officer of Leafy Ke.
"As the founder, I was looking for the best people to work with so I discussed the idea with Kizito and Gachanja. We refined it and did the first application at the Kenya Climate Innovation Centre (KCIC)."
After the discussion, Gachanja and Kizito joined Leafy as co-founders, both taking on the roles of Chief Operating Officer and Chief Research and Development Officer, respectively.
But the idea to create fuel out of diapers was propelled largely by a common diaper menace that affected all the three. As Wachira and his co-founders narrate, they had young nephews and nieces who used diapers.
During this time, the trio observed first-hand the damaging impact waste diapers have on the environment, from their foul smell to the fact that they were eyesores, caused, in part, by irresponsible disposal and poor waste management. In formulating the innovation, the three were also aware that the impact of diapers on the environment and climate was far greater than they witnessed in their immediate surroundings.
The trio were certain they had to take urgent action against the threat presented by the poor management of diaper waste.
"As chemists, we broke down the components of the diapers and thought of how we could transform them into something useful," says Kizito.
"We get diapers and sanitary pads from garbage collectors, clean them using detergent and high-pressure water, then chemically process them into a fuel gel. The gel is patent pending so we cannot disclose it yet," Gachanja says.
After the process, Leafy packages the fuel gel into small cans, which can be used to heat food during catering events or placed in stoves to cook food.
From two diapers, Leafy is able to generate a litre of the fuel gel. The same process obtains for used sanitary pads.
"Our target market comprises people who cook using charcoal and kerosene. These fuels produce a lot of soot, smoke, carbon monoxide and carbon dioxide. The gel doesn't produce carbon monoxide and has lower emissions of carbon dioxide," notes Gachanja.
With the innovation at hand, Wachira then approached the KCIC, a non-governmental organization which sponsors both the national and African regional CLP competitions.
KCIC visited his home and saw the setup, then advised Wachira to join the CLP programme so he could grow the innovation as it was still young and KCIC was interested in working with more mature innovations. Prior to the African competition, Leafy Ke beat 29 other Kenyan finalists in the national contest.
KCIC Chief Executive Officer Edward Mungai says Kenyan innovations who enter the programme receive incubation from KCIC, a crucial partnership that helps them to grow their ideas.
"It is about coming up with innovations that will help safeguard future generations by cushioning them from climate change. It is an opportunity to solve problems and make money," Mungai says.