Tea farmers warned over use of herbicide on health fears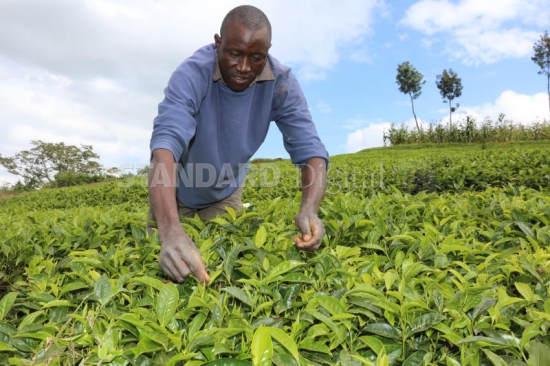 The Kenya Tea Development Agency (KTDA) has warned farmers against using a herbicide that contains a chemical that has been linked to cancer.
In a memo sent to tea factories in the South Rift, KTDA says Glycel contains high levels of glyphosate - a substance classified by the World Health Organisation as a possible cancer-causing agent.
The letter dated July 8 is signed by KTDA Operations Manager Alfred Njagi.
The agency references a case where a US court awarded a groundskeeper $289 million (Sh29 billion) on claims he developed blood cancer from his regular handling of a herbicide containing glyphosate.
The case has generated a lot of interest across the world with some groups in Europe calling for the banning of similar herbicides.
"The said ingredient was found in Roundup and a cancer patient in the United States was awarded millions of dollars by the court because the court found the cancer could have been caused by glyphosate," reads the letter.
Receive feedback
The letter further states that although glyphosate-based herbicides are still permitted in the country, KTDA has been receiving feedback from buyers abroad who are concerned about alleged high levels of glyphosate in tea samples.
Another letter sent through members of tea-buying centres further warned farmers to stop using Roundup.
"Please don't use the herbicides in the tea farm or on any other food crop," read a memo from Toror tea factory manager Raymond Bett.
Mr Bett reminded farmers that buyers test for chemical residues, adding that they could lose markets abroad.
The South Rift region produced around 492 million kilogrammes of tea last year, making it one of the major producers of the crop.
In Bomet County, a letter by the Mogogosiek field services coordinator to farmers warned that buyers were concerned over the continued use of glyphosate-based herbicides.
"We continue to receive requests from buyers for glyphosate-free teas. In these circumstances, and in order to ensure that the requirement of the buyers are met, we wish to advice that farmers adopt alternative weed control methods without use of herbicides," reads the letter.
The coordinator, however, said tests conducted on factory teas had not found traces of the chemical. Any glyphosate found was at levels well below limits set by the European Union, Australia, Japan, China and US.
"All garden tea had glyphosate MRL (maximum residue level) of less than 1.0ppm (parts per million)," the letter stated.
Nicholas Abinya, who is the director of a cancer training programme at the University of Nairobi, however, said it was important to gather more data on the use of glyphosate
"Clear evidence on the chemical used and its known carcinogenic properties would be required to comprehensively comment on the matter. Such evidence may not be available locally.
"Provision of education without tangible evidence would cause unnecessary alarm. That is why relevant authorities should conduct investigations and give better advice to farmers," Prof Abinya said, adding that farmers should avoid over-exposure to all types of farm chemicals.
Roundup owner, Bayer, has also denied that it causes cancer and demand for evidence proving otherwise.