Bob Collymore leaves artistes badly orphaned as he takes his last bow on the world stage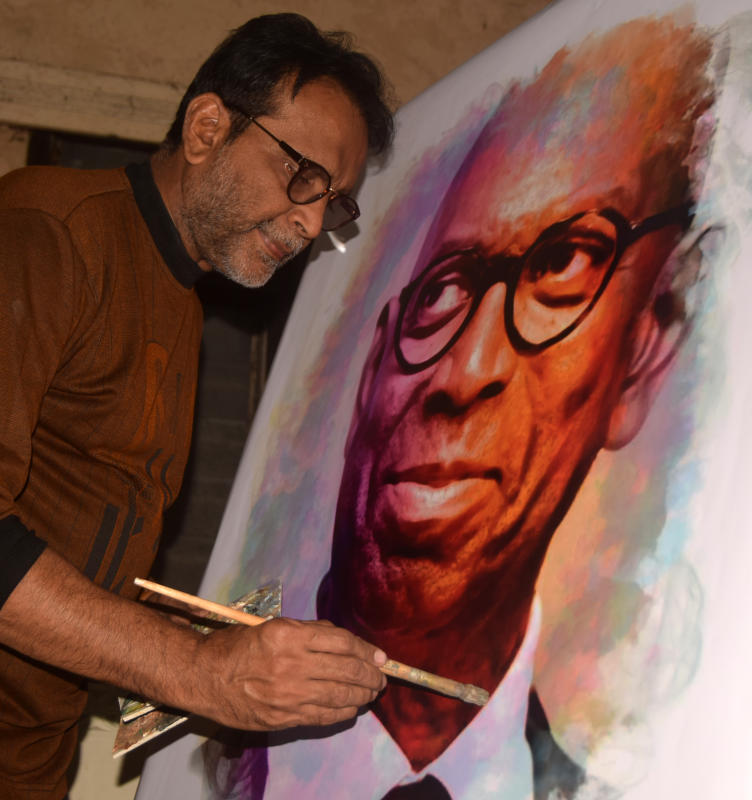 It is 10am on a Saturday morning and revelers are driving into the Carnivore for the Safaricom jazz. Others are walking in after being dropped by matatus at the Uchumi Supermarket Junction on Lang'ata Road.
A true African fanfare is shaping up as people spread their lessos and shukas as they indulge in food and drinks and dance to now live music.
By the time it is 3pm, the venue is full with hardly any space to pass. There are more than 3,000 people singing and dancing along to Jazz music.
The event is sponsored by Safaricom, an initiative of its former CEO Bob Collymore, who died this week.
Good friend
The Safaricom Jazz has become a crucial art event in the Kenyan creative scene, bringing here some of the best jazz musicians.
It is an event, one of many, that defined the passion Collymore had for arts in a country he called home for more than 10 years. Local jazz artistes and bands also perform at the event. One of them, the Ghetto Classics, has become a regular -- the event would be incomplete without this group of young musicians from informal settlements.
The group draws children from Nairobi, Mombasa, Kiambu and Kisumu.
"He was a good friend of the kids given his time as a CEO. He was always interested in knowing what they were doing in school. He advised and called them for meetings in his office. He genuinely cared for the children," says Elizabeth Njoroge, the founding director of the Ghetto Classics.
Collymore was himself a fine Saxophone player, who loved playing playing Louis Armstrong's It is A Wonderful World among many other jazzy tunes.
In his honour, the Ghetto Classics played the tune at a requiem service at All Saints Cathedral on Thursday.
"In fact, the glue that kept our friendship going was love for jazz music and shared passion for helping Kenyan musicians earn revenue," said Charles 'CEO' Otieno, the Managing Editor of The Nairobian.
Collymore had built on what was started by his predecessor Michael Joseph, sponsoring the Groove Tour that helped local musicians showcase their trade with a decent pay.
His entry took the Groove Tour to another level with a celebrity venue replete with VIP areas and large and glitzy stage, giving the razzmatazz required to raise the profiles of local musicians. The pay at such events is decent, higher than many concerts locally. Broadcasting it on live TV helps raise the profiles of local artists.
Musicians Jua Cali, Gloria Muliro, Roughtone, Bahati, Willy Paul, Ben Githae and many others benefited immensely from this initiative.
When he arrived at Safaricom, Collymore pulled a huge sponsorship deal for Benga musician Eric Wainaina for his production MOFaya that was later staged on Broadway in New York, starring Tusker Project Fame winner Valerie Kimani.
Since then, Safaricom has funded many musicals, including Tinga Tinga Tales, that again went to Off Broadway under Eric Wainaina, Lwanda Rockman under the production of Catterbox and many plays and theatre productions across the country.
"Two days before your rested, I sent you a clip of white people being given instructions on how to dance. I hope you were keen to learn the steps. And you get to dance funny with the angels," musician Juliani eulogised him.
Juliani's project helped integrate street families back into the society through theater in Nairobi's Dandora. It was funded by Safaricom Foundation.
The Michael Joseph Centre at the Ground Floor of the Safaricom Centre Headquarters on Waiyaki Way, Nairobi, is a permanent manifestation of Collymmore's vision for the arts.
The centre, boasting state of the art lighting and great ambiance, is available for artistes for free and hosts concerts, orchestra, plays, art exhibitions and conferences.
"The fact that it is for free means artistes can save and have better returns after shows and the lighting means less costs in production," says musician Olova Makadem.
And during his reign at Safaricom, Collymore supported various visual artists including sculptors, having been a collector and seller of arts at a tender age in Guyana where he was born. As a way of providing opportunities to Kenyan painters, Collymore encouraged the annual calendar photography campaign to include painters.
As a result the Safaricom calendar displays some of the finest Kenyan paintings today.
Collymore improved the lives and talents of many musicians through the Sikiza Tune project where musicians get loyalties when their music is used on mobile phones as ring tones or call back tunes.
"He used the considerable resources of Safaricom to keep us relevant and at par with entertainers from beyond our borders. By providing opportunities and audiences through Safaricom Live and distribution channels like Skiza, he kept us visible and paid. We'll miss him," said Eric Wainaina.
Kenyan taste
Many agree that the local art scene will miss Collymore immensely.
"He appreciated high quality music going by his love for jazz and classical music, bringing the Kenyan taste to the world," said Maestro Ken Wakia who has directed the Safaricom Choir and is the national Chairman of the Kenya Choral Directors Association.
No doubt the art community is feeling orphaned with the demise of their benefactor.