First Lady Margaret Kenyatta warns on climate change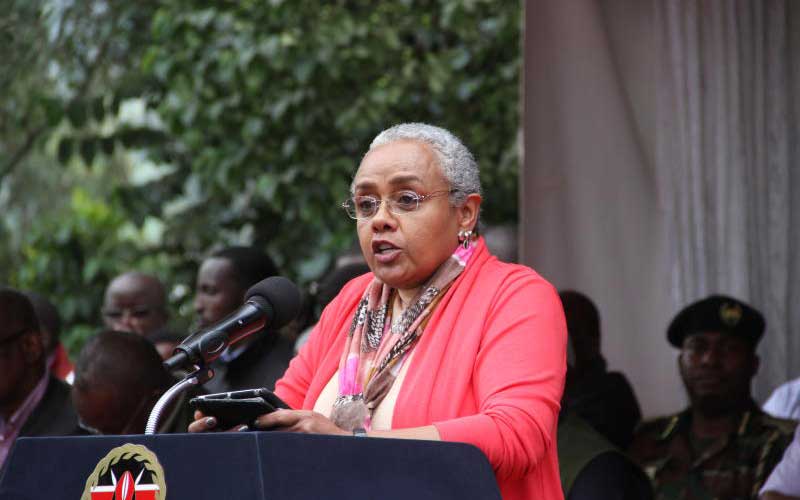 First Lady Margaret Kenyatta (pictured) has said the erratic rainfall patterns being witnessed in the country remain proof that the effects of climate change have hit home.
Speaking during a bamboo planting initiative at the Ruiru Dam in Githunguri, Kiambu County, she said more needs to be done to reverse the negative effects of climate change that if unchecked, might greatly affect future generations.
"I think we no longer need proof that something is happening to our planet. We can all see it in irregularity of our rainfall, severity of droughts and the general confusion of our weather patterns," she said.
The drive seeks to plant 10,000 bamboo seedlings.
"Do you remember the Unga crisis? Do you remember the drought that came just months before? Do you see the low level of the dam next to you, and many others in our water towers?" she posed.
She lauded efforts being made by the private sector to conserve the environment.
"To see one of the biggest industries in East Africa leading an initiative geared towards clean energy and healthy environment is cause for great optimising and encouragement that perhaps it is possible to meet the sustainability challenges of our time," said Mrs Kenyatta.
Environment Cabinet Secretary Keriako Tobiko said Kenya needs to plant 500 million trees to achieve President Uhuru Kenyatta's directive of a 10 per cent tree cover by 2022.
Vimal Shah, the Chairman of Bidco Industries, also attended the event. He said the company's efforts at promoting sustainability remained at the core of their operations.
"We are committed to reducing poverty, promoting sustainable and inclusive growth, ending hunger and improving food security, combating climate change and ensuring healthy living for all," said Shah.