Advertising body a tool to muzzle media, say editors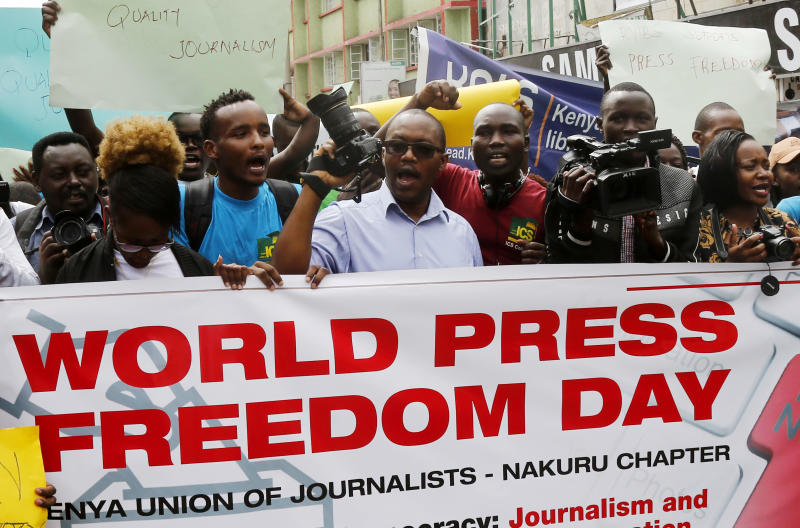 The Government has been taken to task over the establishment of the Government Advertising Agency (GAA), amid concerns of increasing attacks on journalists.
Media stakeholders and rights activists argue that the public was not involved in setting up the agency.
Speaking yesterday during the World Press Freedom Day in Naivasha, the Kenya Media Sector Working Group poked holes in the explanation by the Information and Communications Technology Secretary Judy Munyinyi, who represented Cabinet Secretary Joe Mucheru, that the move was meant to cut costs.
"The saving rationale for GAA is not making sense. GAA was set up to commercially muzzle the media," said Nation Media Group Editorial Director Mutuma Mathiu.
Article 19 Executive Director Henry Maina said each ministry has procurement plans and there is no rationale in setting up another agency when the existing agencies are not fully exploited. "The government has not come up with an advertising policy and should not purport to implement it," said Mr Maina.
Ms Munyinyi argued that the government initially spent Sh8 billion annually in advertising when each ministry or State corporation was allowed to place their own adverts.
"The government set up GAA to consolidate advertising and reduce the cost associated with it. We realised when ministries used to advertise by themselves, the government spent Sh8 billion annually," she said.
Editors said over-reliance on government advertising, harassment of journalists and unethical behaviour were major threats to media.
"GAA has morphed into a master switch that can and has been abused. It is the single-biggest threat to editorial independence and sustainability of the media in the country today," said Kenya Editors Guild chairman Churchill Otieno.
Communications Authority Director Francis Wangusi admitted that free media, traditional and new media are indispensable for development, democracy and good governance to take place.
"We must admit that the democratic space for the media and citizenry has greatly been enhanced by the freedom that the media in Kenya enjoys today," said Wangusi.
Speaking at the Kenya Parliamentary Journalists Association meeting at Serena Hotel, Mombasa, Senate Speaker Ken Lusaka challenged the media to be objective.
He said freedom of expression today is a sacrosanct component of democracy.