Ex-student leader killed in fierce battle for market space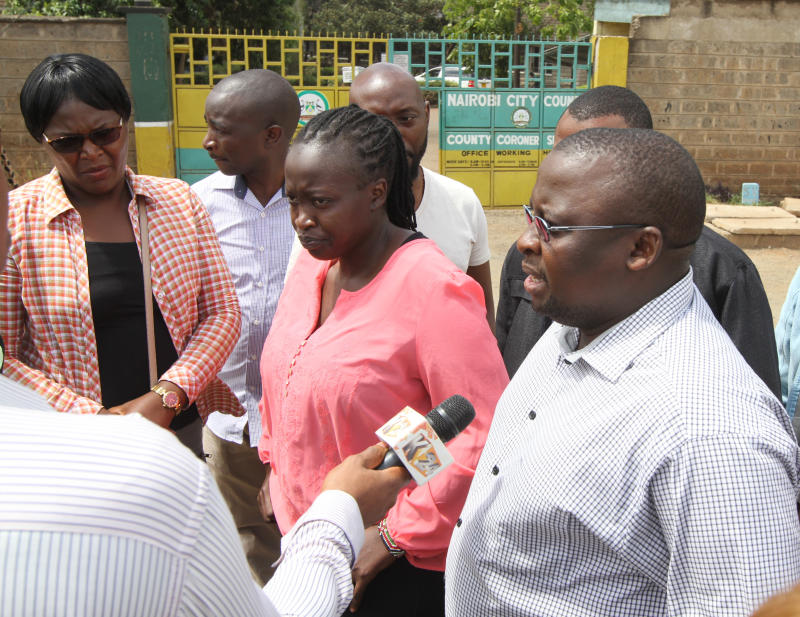 Yesterday morning, Cynthia Kendi stood at the entrance of City Mortuary, weeping silently into the sleeves of her sweater.
In the relentless sun, they huddled with family members who conversed in low tones, their voices punctuated by sobs. They were still piecing together events that unfolded the previous night.
Kendi was at home with her three-year-old daughter waiting for her husband Samuel Ragira, alias OCS, to come home when a friend called her. The friend had seen a disturbing post on Facebook, and was wondering if Kendi knew that Ragira had been shot.
Moments later, another call came to confirm that her husband was dead.
"I did not sleep. My daughter keeps asking when her father will come home. I do not know what to tell her," says Kendi, with tears in her eyes.
Ragira's family says from the time they were informed of the fatal shooting, they have been desperately seeking answers on what transpired before the death. Police who booked the body at City Mortuary recorded it as a case of mob justice; that he was killed by stoning.
Witnesses say a few minutes after 6pm on Thursday, a group of people arrived in a car and after a short exchange of words, they shot at Ragira. A bullet got him on the right shoulder and pierced through to his spine. He was rushed to hospital but was declared dead on arrival.
Ragira's several posts on Facebook hint at an altercation between traders and goons at Club 36 market opposite Nairobi Primary School.
A few hours before his death, his Facebook post read, "Now they want to grab Klabuu 36. Goons armed with pangas and pistols to scare people. It cannot happen."
It is not clear who "they" were in his status update. It was the last one he made.
His close friends say the feud started when a group of University of Nairobi students started demanding for space to operate business around Club 36. Other traders protested, saying the land did not belong to the university, and students had no right of space. On Thursday when fracas started, Ragira was among those who went to mitigate on behalf of students.
"Ragira was always fighting for the rights of students. We are looking for information from police to ensure justice is done," said Festus Ontita, secretary of the University of Nairobi Students Association (UNSA).
UoN Vice Chancellor Prof Peter Mbithi clarified on Twitter that Club 36 is near the university but not owned by UoN. He described Ragira as a humble human being, larger than himself.
Ragira's elder brother Charles described him as a sharp boy. An alumnus of Kisii High school, Ragira is said to have excelled in Mathematics and got an admission to UoN to study Mathematics.
"He used to coach me when I was in high school, and there was no sum that was complex for him. He was so bright," his niece Cynthia Kemunto said.
His other magic was on his feet. Charles says his brother was so fast he won several athletic awards. It is his talent that earned him positions in the university's team, and flung him to fame.
His leadership skills and ability to sway crowds through his charisma made him a darling of many, and when he decided to pursue a political career as Kilimani MCA in 2017, he was backed by several students. He did not get in, but he remained vocal in commenting on socio-political issues. His nickname, OCS, that he got in high school was short for "Officer Commanding Students".
"From a young age, he has some aura of power around him. People followed his command," said Charles.
The university administration says he joined UoN in 2009, but was expelled three years ago due to disciplinary issues.
"He is a former student. It is unfortunate that he died in such a ruthless way, and it should be investigated. He was however not one of our students. He had been expelled," said UoN corporate affairs communications director John Oridi.
Kilimani police boss Michael Muchiri said initial reports showed cause of death to be mob justice but said students should be patient and wait for post-mortem reports.