How noble amnesty programme turned into a bloody mess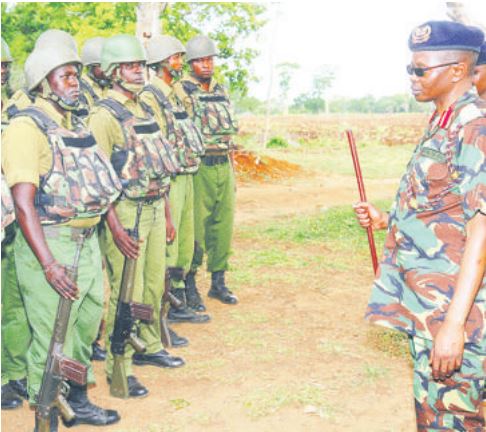 The discussions at the village baraza somewhere in Kwale were getting to Mohamed Bakari Mazuri's nerves.
Increasingly, speaker after speaker was talking about something that was close to his heart. A chief and an NGO-type were busy telling the villagers to look out for danger signs that could mean their sons or daughters had joined Al Shabaab, the blood thirsty militia that had declared war on Kenya and its citizens.
"They might start to keep beards or to lock themselves in rooms. They might even become intolerant to any other kind of religion apart from what they think is holy and only listen to specific preachers," the chief said. "If you see any of these signs, come and report."
Bakari, himself a returnee, exhibited none of these stereotypes. He didn't spot an unkempt beard. He wasn't locking himself in a room and listening to radicalised preaching all day. He wasn't even remotely withdrawn. In fact, Bakari was the life of any gathering he was in. So after the baraza, Bakari approached the chief, pulled him aside and said:
"I want to tell you a few things in confidence and colleagues know I am talking to you. If something happens to me, they will come for you and you will not like it," Bakari said.
He said he was a returnee. And there were 300 others just like him living dangerously on the fringes of society.
"They are tired and want to come home," he said. "If you can guarantee us our safety then we will come out in the open."
With his message delivered, Bakari faded back into the crowd of locals he had emerged from. Up until that point, the return of the returnees had had devastating consequences. Daughters were disowned by their fathers. Sons were frog marched to police stations by sobbing mothers who knew deep in their hearts that the time with their wanted sons was limited and that hiding them without the knowledge of authorities would put whole families in danger.
Those taken to police were registered, to remain within earshot distance of law enforcement while walking around with targets on their backs.
The majority, however, survived outside the boundaries of being disowned or outed to the police. They retreated into their cells in different parts of the country with nothing but the guns on their shoulders and their experiences of guerrilla warfare.
After coming back from the brutal war, they never really found forgiveness from the state. Neither were they free from suspicion from other returnees.
Trial and terror
The compromise came in the form of a proposal by Bakari, the charming man who somehow got the ear of those in charge of security within his county, Kwale.
When Bakari next made contact with the chief, the state was ready for him. The state was ready to grant them amnesty on condition that they fully surrender and know that they would be under surveillance for the rest of their lives. He had no problem. He left the meeting location somewhere in Ukunda Town and took the news back to his people. He told them the government was ready to give them three things: Amnesty, facilitation and integration.
"The returnees agreed to first register 60 of their members with government as a pilot. They wanted to see how this would go," a source who was part of setting up the government amnesty programme said.
The 60 were the less militant ones. Men and women who'd been in Somalia for less than a year. Their experience in combat and participation in terrorism paled in significance to what others had done.
After a series of consultative meetings between different county commanders from Tana River, Mombasa, Kwale, Kilifi and Lamu, the list was pushed further up to the Ministry of Interior where insiders say it was received by the then minister Joseph Nkaissery in Nairobi.
But there was a problem. No one in government knew what would happen after the 60 men and women presented themselves to the state. It didn't seem like there was a plan in place. "Some of those in charge of the amnesty did not understand the complexity of the problem properly," Joseph Kaguthi, the former chair of the Nyumba Kumi Initiative and one of those entrusted by government to midwife the programme said.
There was no history of such a project and, like many other government programmes, the Amnesty Programme remained in place only on one side of a piece of paper. The other side contained names of 60 individuals who gave up one life for the hopeful pursuit of another. Another source says after the surrender of the 60, there was no urgency in the programme.
Bakari, the exuberant returnee, was on the other hand becoming anxious. He had held his end of the bargain by brokering the safe surrender of his people to the state. But safety was not all they wanted. They wanted more. And in the absence of it, murmurs of a betrayal started going around and people started pointing their noses towards him.
Karma always gets around. At roughly the same time when these discussions of potential betrayal were going on, something else happened that would break the trust between government and the returnees and in the process catalyse the coldblooded murder of Bakari.
The backlash
On April 16, 2015, some two weeks after the bloody Garissa University massacre and six months after the initial 60 returnees presented themselves to government, residents in the coastal resort city of Mombasa woke up to something new.
Two billboards with photographs of nine individuals wanted over links to terrorism were placed along major streets in Mombasa. "Wanted! Dead or Alive. Sh2million each (reward)," the billboards read. Some of these names were also on the initial list of returnees only known by a handful of people. The returnees felt slighted. Again, the noses pointed to Bakari, who a few weeks before had held a modest public wedding. His looked like the only life that was back on track.
"They found themselves between a rock and a hard place," sociology professor at Pwani University Halimu Shauri says. "He was never fully embraced by the community and his former colleagues in Al Shabaab never trusted him again. He was walking around with too many secrets."
Because of this, death became the only guarantee for lifelong silence. One evening, Bakari, the man who had been to Somalia, Uganda and even Afghanistan on various missions, received a call while in the company of his wife in their house in the outskirts of Ukunda.
As he often did, he slowly excused himself and walked out of the house to talk to the other person on the line.
The second he closed the door behind him a lone gun man walked right to him and shot him three times from point blank range before calmly walking away. He had survived many things, but not the assault from the rifle.
With no link to the returnees, the government came up with another initiative to placate the initial 60 after intelligence reports showed the continued involvement of some returnees in criminal activities all along the coast. Subira Sudi Mwangole, was now the link between the returnees and the state.
It was 10 months later that some movement with regard to the amnesty programme was seen again. On Monday February 22, 2016 Interior Permanent Secretary Karanja Kibicho unveiled a group of 19 youths at Matuga Training Institute, including five women, whom he said were part of a group of 48 former radicals who had surrendered to government.
As an intervention, he said the returnees would get brand new motor cycles as well as dairy cows on a livelihood programme supported by the state.
"These announcements were an oversight. You can't do it overtly. The enemy is within us. Anyone paraded as a returnee would be dead in a few days," Kaguthi says.
This, the returnees said, made them marked men and women. Plus, it pitted them against the thousands more disenfranchised youth within the coast region.
Learning curve
All in all, before the news had settled, returnees who had chosen not to surrender quickly repossessed the motorcycles and used them for their own gain. "Young people in their prime left to be spectators to development were seeing their age mates, wanted by police, being given livelihoods. They were bound to get angry," Prof Shauri says.
Subira was gunned down barely weeks after the launch of the motor cycle and dairy cow returnee livelihood programme.
Four years after the Amnesty Programme was introduced by the government, it has had chequered successes. Critics say the set-up was wrong from the initial stages.