Raila Odinga opens up on how the handshake was achieved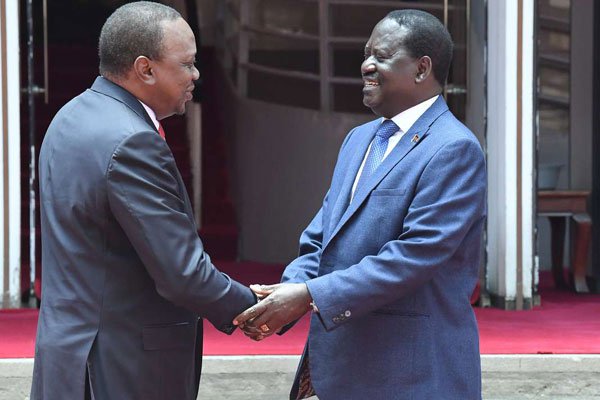 Former Prime Minister Raila Odinga opened up about how his party and team were able to move from talks of treason related to his swearing in ceremony to a political truce achieved through the handshake.
In an interview with a local media house Raila Odinga revealed how they were on the verge of forming a parallel government since their calls for talks were dismissed by President Uhuru Kenyatta and his team.
The ODM leader said that his team pushed for the 'swearing-in'at Uhuru Park in Nairobi on January 30 since the government only wanted to meet them if they agreed to talk about the Big Four agenda and not about the outcome of 2017 elections.
Mr Odinga added that his team knew of the consequences and were ready to deal with it. Raila revealed that his team had recorded rehearsals of the 'swearing-in' and were ready to be released in case they were arrested before the planned date of the ceremony.
"During the planning of the swearing-in, there were two schools of thought. There were those who thought it was too risky and that we should look for other ways to achieve what we wanted. Then there were others who were saying that there would be no talks unless we put pressure on the government," said Mr Odinga.
Raila Odinga added that President Uhuru's team later backed down, saying they were ready to hold talks with them in all matters.
"Our conditions were met and thus we agreed to meet. Two mediators from each side arranged the preliminaries," said Odinga.
It is during this talks that the two sides came to an agreement to unite Kenyans through the Building Bridges Initiative and the 'Handshake' was achieved.
The terms of reference of the Building Bridges Initiative is "to evaluate the national challenges outlined and having done so, make practical recommendations and reform proposals that build lasting unity."
The handshake came four months after President Kenyatta was sworn in for his final term. It rescued Kenya from an agonizing political heat that followed the contested August and October 2017 presidential election.
On 2022 succession politics, Raila Odinga said that revealing his intentions for the Presidential seat would plunge the country into early campaign mood and everyone would forget about the Big Four Agenda.