May's Sh500 billion bet to reaffirm UK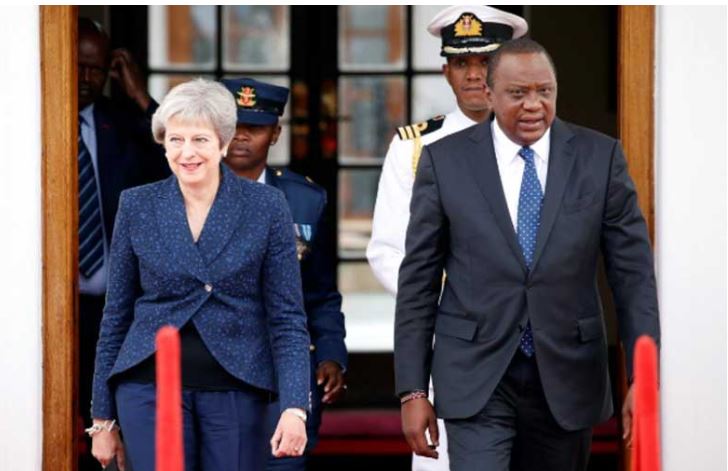 British Prime Minister Theresa May has promised more than Sh500 billion in new investment and aid to Africa.
The money will be spent on projects that will create jobs.
Her pledge to stimulate trade and investment in Africa comes at a time China has become the continent's biggest trading partner and lender.
Ms May made the commitment before leaving South Africa for Nigeria, earlier this week.
In Nairobi yesterday, the premier spoke of her country's desire to be Africa's top investor in the next four years.
"UK is already the largest foreign investor in Kenya and I have set out this week our ambition to be the G7's number one investor in Africa by 2022," May said.
She was referring to multi-billion businesses spread across banking, agriculture and manufacturing sectors.
In her country's own assessment, unemployment is Kenyan's biggest problem, with an estimated 750,000 people joining the job market yearly.
Biggest allies
The planned investments will benefit UK's biggest allies - Kenya, South Africa and Nigeria.
Most of the investment will be from private enterprises out to do business rather than loans or aid money, a point she stressed in her speech yesterday.
"As I have said this week, I want to ensure that the UK's relationship with Kenya and with Africa is more and more about private investment, about doing business and making the most of commercial opportunities together," May said.
President Kenyatta sought UK's support to grow market access in the Commonwealth – an organisation of 53 States, mostly former colonies of the British Empire.
He assured her that Kenya was ideal for investors since any investment would guaranteed "mutual benefit" for both countries. May said the mutual strong trade and investment ties should create even more opportunities for British businesses and consumers.
She also promised a new cyber platform that will protect vulnerable Kenyan children from British paedophiles through online child abuse, like sharing of their pornographic content.
The new cyber centre, being built by Britain in Nairobi, will help the Kenyan police stop these images being distributed online to protect children from being abused.
Waititu suspends two CECs
Health Executive James Murega and his Trade counterpart Isabela Waiyaki were handed suspension letters on Tuesday.