CSs on the edge as President Uhuru plots major Cabinet reshuffle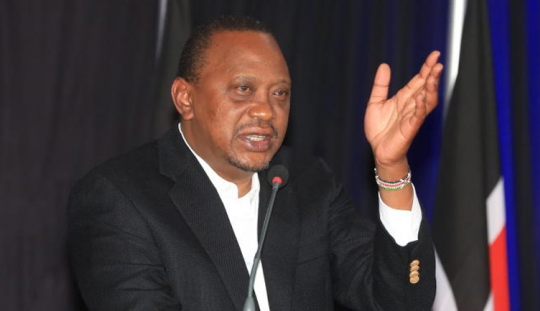 Political responsibility for corruption, poor performance, lack of political clout and the search for the ever-elusive regional balance in national representation are factors likely to put the fate of about ten Cabinet Secretaries in the balance, as a major reshuffle looms.
The boldest indications of the changes in Cabinet and several other government offices were let out by Opposition leader Raila Odinga on Tuesday when he promised 17 MPs from Western Kenya led by Kakamega Governor Wycliffe Oparanya that he will ensure they benefit from the appointments.
For close to ten days, a reclusive President Uhuru Kenyatta has been holed up at the Coast with insiders indicating he was reorganising his government.
The Head of State briefly interrupted his Coast trip for some hours last Saturday to attend the funeral of Mrs Sarah Jerop Kasaon the wife of former Vice Chief of the Kenya Defence Forces Lt Gen (Rtd) Joseph Kasaon and also met former President Moi at his Kabarak home in Nakuru before flying back to his private residence in Mombasa.
State House insiders say a number of Cabinet Secretaries may face the axe in the much anticipated Cabinet purge mainly owing to crises afflicting their dockets and irrelevance wrought by handshake politics.
Already, Kalonzo Musyoka's Wiper Party has beaten a hasty retreat, on sharp criticism of the Jubilee regime and ordered MPs to support government business in the House.
Pundits say this is the clearest indication yet that Kalonzo or people close to him are soon to be accommodated in government, further complicating things for Cabinet Secretaries whose performance has been under par.
According to the insider, a team of the Multi Agency Task Team (MATT) headed by Paul Kihara has done secret lifestyle audits of the CSs and senior Cabinet officials for consideration by the president.
MATT that brings together National Intelligence Service, Director of Criminal Investigations, Anti money Laundering Unit and Asset freezing Unit reports directly to the president. Others are Anti banking fraud unit, Financial Reporting Centre, Kenya Revenue Authority (KRA), Cyber-crime Unit and Anti counterfeit body.
None of the CSs have been directly implicated in corruption. For some, however, their dockets are swamped in never-ending corruption probes, mentions and suspicion. Among those whose up dockets have been mentioned in corruption scandals are Interior CS Fred Matiangi, National Treasury and Planning CS Henry Rotich and his East African counterpart Adan Mohamed.
The dockets have been caught up in adulterated sugar improprieties which incensed Kenyans and infuriated the President.
Dr Matiang'i, who brought momentous changes in the Education sector before he was moved to Interior docket, has found himself in an awkward position in the Ruaraka land deal that was executed under his tenure at the Education Ministry.
His name has been adversely mentioned in the Ruaraka scandal at the National Assembly and Senate parliamentary committees on land and summons to appear before the teams have been ignored. It is not clear if Kenyatta will let him go.
Mr Rotich and Mr Mohamed on the other hand are joined at the hip by the sugar scandal. The President moved the former Trade CS to the East Africa docket.
Unsafe sugar
And on Wednesday, a joint parliamentary committee on Trade and Agriculture indicted the two CSs over the sugar scam that saw cartels import incredible amounts of unsafe sugar. The committees' report was later amended to ease the burden of implication of Rotich and Mohamed
While the Treasury CS has been fingered for giving blanket importation licenses to sugar importers, Mohamed is in a fix for not ensuring that agencies within his docket ensured importation of safe commodity.
Already, senior officials of Kenya Bureau of Standards (Kebs) including the chief executive officer Charles Ongwae have since been hauled to court over the unsafe sugar.
The Energy docket which Charles Keter presides over is sagging under the weight of numerous probes at the parastatals in its stable. Plucked from the Senate to head the lucrative docket in 2013, the man who occasioned a by-election in Kericho following his resignation may pay the price for the ills of those under him.
Tourism and Wildlife CS Najib Balala has also been forced to fire-fighting after the country lost the biggest number of rhinos in one fell-swoop. Weeks later, the tragedy has turned into a nasty episode of finger-pointing, cursing and blames between Balala's ministry and other conservation organisations.
Pressure over rhino deaths so much fired up Balala that he burst out in a fit of rage telling conservationists to go to hell. He has since apologized (See separate story of Page 6).
The two are not alone. Just before the storm on Ruaraka land and sugar scandals took centre stage, Agriculture CS Mwangi Kiunjuri was fighting to keep his name off the maize scandal at the National Cereals and Produce Board (NCPB).
In May Mr Kiunjuri admitted that the government may have lost billions of shillings in the NCPB maize payout scandal after concerns were raised over how the weighbridges at the facility were operated.
Having been baptised by fire by legislators who accused her of arrogance and high handedness, Health CS Cecilia Kariuki walked out unscathed over the lose of millions of money in what was dubbed National Youth Service (NYS) season II.
The scam may have died down but the dent it had on the image of the second term government of President Kenyatta is huge. Her Principal Secretary Lilian Omollo and several senior officials of NYS including director general Richard Ndubai were charged in court.
In Parliament an impeachment motion pushed by Aldai MP Cornelly Serem against Ms Kariuki over claims of abuse of office was withdrawn last minute even after at least 166 MPs had signed a petition to quash suspension of Kenyatta National Hospital boss Lily Koros.
Insiders at State House said following Kalonzo's decision to support government, the tenure of Foreign Affairs CS Monica Juma is increasingly untenable.
Also seen in the light of lacking of political clout are Simon Chelugui (Water), Keriako Tobiko (Environment) and Information Communication and Technology's Joseph Mucheru whose ministry is the latest to be caught up in a scam.
As the president takes his working holiday, his deputy William Ruto continues with his countrywide tours, which yesterday took him to Murang'a.
Speaking at a harambee at Gaichajiru Boys High School in Kandara, Ruto said the Jubilee administration was committed to establish industries, affordable housing and universal health care.
"The Jubilee leadership under President Uhuru Kenyatta and myself is concerned with transformation of the country through development programmes in accordance to the party manifesto," said Ruto. [Additional reporting by Boniface Gikandi]