Black rhino numbers double, a first in 35 years of heightened conservation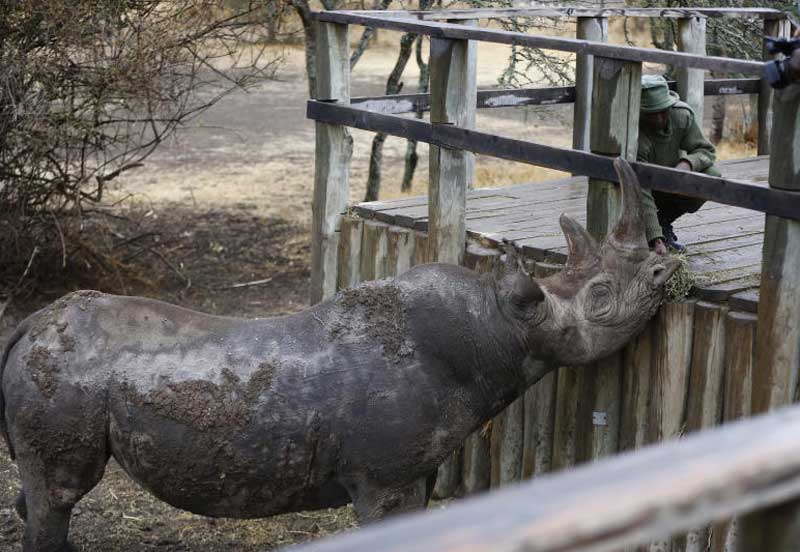 The population of black rhino in the country has doubled for the first time in 35 years following conservation efforts.
The current black rhino numbers stands at 750, according to report by World Wildlife Fund (WWF), two-fold increase from 350 in 1983 when the population was at its lowest in the country as a result of intense poaching.
Sharp decline
"The black rhino has suffered a catastrophic 98 per cent decline across Kenya, whose population plummeted from 20,000 in 1970s to about 350 in 1983. The curve has now turned and the population stands at 750 in 2018," WWF said in a report on March 3.
According to the International Union for Conservation and Nature, black rhinos are classified as critically endangered, meaning they still face high risk of extinction in the wild.
"Generally, rhinos are the most intensively monitored animals, not only in the country but also globally," said Samuel Mutisya, Olpejeta Conservancy head of wildlife. Currently, Kenya is among countries in Africa that have managed to reduce poaching activities to below 1 per cent.
This, Mr Mutisya said, is attributed to tough anti-poaching and trophy-hunting laws, stringent security in rhino sanctuaries, increased wildlife crimes prosecution as well as political will.
Kenya has the third largest population of rhinos at 1,200, after South Africa and Namibia.
Remarkable steps
According to wildlife crime lawyer Shamini Jaynathan who works with Space for Giants, Kenya has made remarkable steps in prosecuting wildlife crimes, a move that has seen prosecution currently standing at 93 per cent.
Lake Nakuru National Park, which is one of the oldest rhino sanctuaries, rhino population has stabilised after years of aggressive poaching from 2012 to 2014. The national park currently has over 100 rhinos, both black and white rhinos.