The day Mandela abandoned Matiba and other multiparty crusaders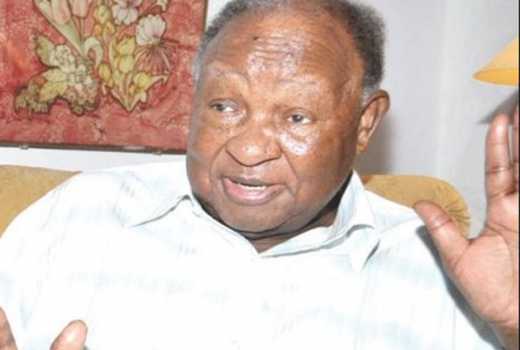 In the fog of the beginning of Kenya's dark days 28 years ago, a glimmer of hope appeared in the horizon. The country was burning and key agitators for opening of democratic space were confined in jail. Others were on the run.
And on that chilly afternoon of July 11, 1990 at exactly 1.02pm, the world's most known political prisoner touched down at the Jomo Kenyatta International Airport (JKIA).
Kenyans waited with baited breath as Nelson Mandela, the man who had been in jail for 27 years, finally landed in Nairobi. The timing could not have been more perfect. Two weeks prior to his arrival, the country had been on the brink following a crackdown on people perceived to be anti-government. Public transport was in paralysis and there were daily riots in different parts of the country.
Among leaders who had been arrested were Kenneth Matiba, Charles Rubia, Raila Odinga, John Khaminwa and Gitobu Imanyara. On the day Mandela arrived, the government formally announced the detention of Nairobi lawyer Mohamed Ibrahim.
And so when the freedom icon raised his trademark clenched fist in salute to greet the crowd with his benign smile, progressive forces agitating for the opening of democratic space so that Kenyans could enjoy their fundamental freedoms, were hopeful.
They remained guardedly optimistic when Mandela's voice boomed from microphones at Moi International Centre Kasarani, proclaiming his utmost respect for freedom fighters Dedan Kimathi, General China (also known as Waruhiu Itote) and others who had paid with their lives for Kenya's freedom.
To Mandela, Kimathi was "a man who led the armed struggle against the British very excellently and for which he paid with his own life. Kimathi died but the spirit of the liberation remained alive and that is why the people of Kenya are free today."
The waiting became unbearable as Mandela tugged at the heart strings of the patriots when he expressed his desire to meet General China and Mukami Kimathi.
Plight of detainees
Time could not allow, he explained, and so he asked his host President Daniel arap Moi to pass his regards. Later that afternoon, he met Mama Ngina Kenyatta and Jomo's first daughter Margaret Wambui and posed for photographs in State House.
Mandela's question of how many sons and daughters had to pay the price for freedom was somehow answered on the last day of his tour. As he and his wife agonised how to respond to journalists' questions about the plight of political detainees, former Kitutu Masaba MP George Anyona, university lecturer Ngotho Kariuki, former MP Kiruhi Kimondo, Edward Oyugi and Njeru Kathangu were added to the growing list. Lawyer Giibson Kamau Kuria who had been in hiding at the US embassy fled to the UK after days of hiding.
They had been picked at midnight in raids to their houses a day after Mandela arrived. They would later be sent to detention without the opportunity to defend themselves.
While fielding questions from journalist at the manicured lawns of State House, Nairobi, away from the rioting mobs battling with police, Mandela skirted around the issue of Kenya's quest for democratisation, saying the destiny of the country lay in the hands of its citizens.
"It is the people of Kenya who will decide their own destiny. We will be prepared to abide by any decision taken by those who have been placed in positions of leadership. It is not for us to get involved in such internal affairs," he said.
Apparently, the wives of seven lawyers in detention or hiding led by Joyce Khaminwa had written a petition to Mandela hoping that he would plead with the government to release their men.
Winnie Mandela was non-committal about the suffering of political detainees. Asked whether she sympathised with wives of detainees as she had endured 27 years as her own husband was in detention, she said she had no authority to comment on the issue.
It had taken Mandela 27 years to walk to freedom. As the Air Tanzanian jet which had brought him taxied from JKIA on his way to Mozambique and finally to South Africa, he left behind some broken hearts and bulging club of second liberation heroes.
By a strange twist of fate, Winnie would die a fortnight before Matiba, whom she and her husband had left in detention. Although Matiba was released a year later when his health deteriorated and suffered a stroke, he never recovered.
But as Mandela had observed during his visit, the spirit of the founding freedom fighters both in Kenya and South Africa is still live on where oppression, corruption and poverty are still as perennial as grass.