Government officials use police trucks to illegally transport timber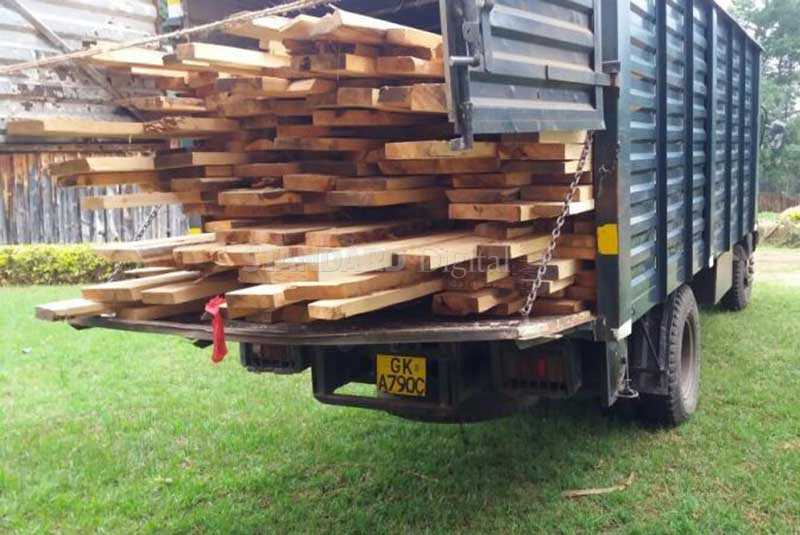 A network of cartels involving senior Government officers is using police trucks to ferry charcoal and timber, in violation of the ban on logging.
In a brazen show of those charged with enforcing the law turning into law-breakers, police lorries are transporting the illicit cargo, confident that they can get past road blocks set up by their colleagues without any hitch.
At least five Government vehicles have been seized in separate incidents, ferrying hundreds of bags of charcoal and timber. Reports indicate the racket is thriving, particularly at night, fuelled by the runaway prices of the illicit cargo.
The National Environmental Complaints Committee (NECC) acknowledged that there were growing reports of misuse of Government resources by officials to beat the ban imposed in February to check the destruction of forests.
"We have been receiving a lot of complaints from Kitui, Kwale, Malindi, Narok, West Pokot, Baringo, and Kericho, where Government resources and officials are purported to be behind the illegal business despite the ban," said Dr John Chumo, the secretary of NECC.
"There is no way a Government will give directives and then go against them. If the public is eagerly waiting for the task force report, then there should be no excuse for those breaching the law, no matter the office they hold," Chumo added.
He said complaints of harassment of environmental activists by security chiefs are on the rise, too.
"These cases of intimidation as reported by environmental activists is a clear indication that all is not well. When the Government suspended logging, it applied to every individual, no matter their position, and those found breaching the law should be apprehended," he said.
The Standard has established that the ban on tree harvesting in public and private forests has opened up new avenues for cartels to mint millions of shillings from loggers.
The cartels are operating under the cover of darkness, transporting logs from the forests with the approval of some senior officers at the Kenya Forest Service and police officers patrolling highways.
Insiders in the illegal trade said saw mills had not been closed after the ban imposed by Environment and Natural Resources Cabinet Secretary Keriako Tobiko as the merchants use the new scheme to deliver logs to their yards.
County government vehicles, too, have been intercepted carrying forest produce.
Packed sacks
In Laikipia, the Anti-Stock Theft Unit has been accused of using Government vehicles to transport charcoal.
Residents said the officers bought sacks of charcoal from Lonienk, Survey, Ol Moran, and Posta areas at Sh300 a bag. They then transport them to Nanyuki, Nyahururu, Nyeri, and Nairobi, where a bag fetches between Sh1,500 and Sh2,000.
Residents explained that Land Cruisers were loaded with bags of charcoal at dusk, covered with tents, and then driven at night.
However, Laikipia County Police Commander Simon Kipkeu said he had not received any report about the unit's involvement in charcoal trade and promised to investigate the claims.
"We will investigate and those who will be culpable will face the law," said Kipkeu.
In Meru, a Government lorry, registration number GK 422T, was impounded on March 28 carrying timber. It was driven to Kabachi Police Station but later released together with the driver.
"The incident was reported to the Kenya Forest Service (KFS) headquarters," said a source who requested anonymity. The official added that the matter was handled 'administratively'.
Rosewood timber
A Government vehicle was impounded in West Pokot after it was found carrying 800 pieces of rosewood timber.
The suspects, including two administration police officers, were arrested by officers from the Environmental Department.
In Baringo, three warders from the Prison's Department in three Government lorries loaded with timber were arrested by KFS officers.
The warders claimed the vehicles had been signed off from the headquarters to collect timber to be used by the Prisons Department.
In Malindi, a lorry belonging to the Administration Police was intercepted carrying 120 bags of charcoal at night near Marereni area of Magarini sub-county along the Malindi-Lamu road.
The lorry, registration number GK B441F, was seized by KFS officers following a tip-off from the Magarini Charcoal Producers Association.
The KFS Coast regional commander, Omar Komora, on Monday said 19 vehicles, including an Administration Police vehicle, had been impounded since the ban was effected and 65 suspects arrested.
People living near forests in Kabaru, Gathiuru, Ontulili, Wanjerere, and Kimakia in the Aberdare zone reported that logs were transported by merchants between 12am and 4am, when there is little traffic on the roads.
Senior officers
None of the trucks has been stopped by police patrolling the highway.
A KFS officer claimed senior officers were behind the thriving trade that has gone unchecked for decades and that some own saw mills.
Junior officers, the official claimed, were intimidated, threatened with transfers among other disciplinary measures if they exposed the racket.
He called for investigation of high ranking officers in the cartels who run the groups that smuggle logs from forests.
"Some members of Community Forest Association are on the payroll of the cartels. They facilitate smuggling of the logs from areas they are meant to protect," said the officer who sought anonymity.
Greenlife, Nature and Ecosystem Network Executive Director Richard Keter said the use of Government vehicles was worrying.
"Kenya Forest Service officials together with other security chiefs should be answerable," said Keter.
A director at Green Future Foundation said logging was still rife in Mount Kenya region because of corrupt officers.
"Nothing tangible has changed," said Mr Muchiri Mwangi.
[Reporting by Boniface Gikandi, Caroline Chebet, Phares Mutembei, Cyrus Ombati and Jacinta Mutura]