KDF, SNA kill 23 Al-Shabaab militants near Kenyan border in clash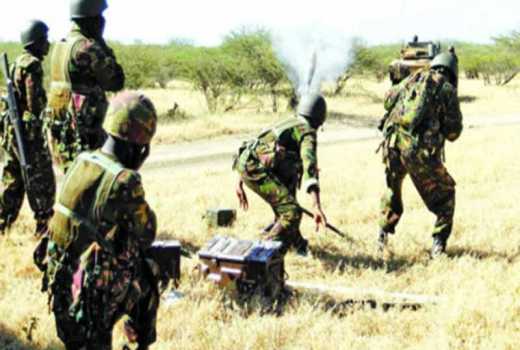 Combined joint task force of the Somali National Army (SNA) and Kenya Defense Forces (KDF) AMISOM contingent killed 23 members of Al-Shabaab terror group in Fahfahdun town situated in the South West prefecture of Gedo Province of Somalia.
KDF conducted an assault targeting the new base of the terrorists in the outskirts of Fahfahdun town, reports say.
The militants withdrew from the positions they held in the area. An exchange of heavy weaponry that lasted four hours left 23 militants dead, three tactical vehicles with mounted machine guns destroyed, and light machine guns seized by the army.
The militants were planning to use the base to conduct ambushes and attacks targeting the SNA and KDF troops in pacification mission in the region
On Sunday, unknown KDF personnel were injured when an armoured personnel carrier they were travelling in ran over a roadside explosive in Gedo region region on Sunday.
The victims were flown to Nairobi.
Local residents said the incident happened between El Wak town and Busar village, both located near Somalia's border with Kenya.
The region is an Al-Shabaab hot-spot area where security vehicles have run over explosive devices in the past.
KDF, which is part of Amisom troops in Somalia has started withdrawing from there as part of plans to leave some operations to Somali troops.
KDF went to Somalia in October 2011. Kenya's incursion into southern Somalia started after the kidnapping of two Spanish women, who were working for MSF at the Dadaab refugee camp.
The abductions were carried out by the militants who the troops said planned to push away under the Operation Linda Nchi.
Two years later, the troops managed to take control of Kismayo port under Operation Sledge Hammer.
Initially a team of about 2000 troops had been engaged in the operation but the number doubled when Kenya joined UN's AMISOM.