Nyachae lands job as East African Court Judge after missing EALA appointment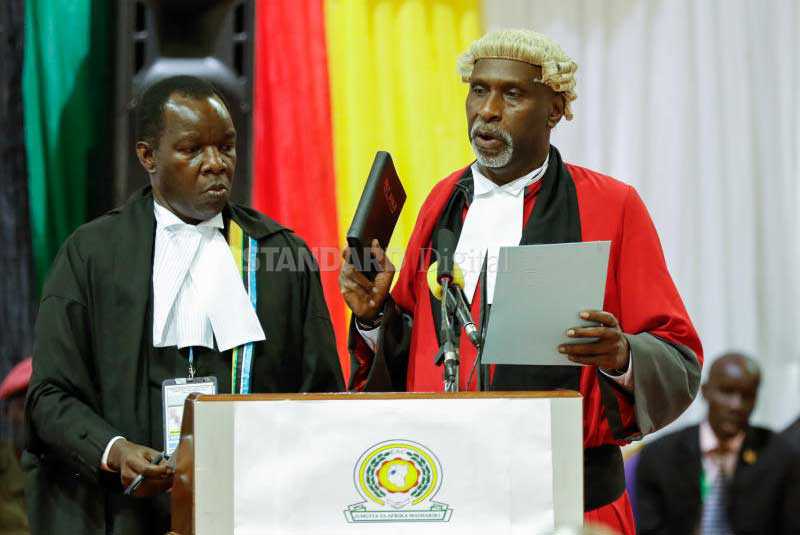 Lawyer Charles Nyachae has been sworn-in as a judge of the East African Court of Justice.
Mr Nyachae, now a justice, was nominated by President Uhuru Kenyatta after he failed to clinch a position in the East Africa Legislative Assembly.
He was among Uhuru's point men who traversed Kisii County campaigning for Jubilee. The former chairman of the defunct Constitutional Implementation Committee (CIC) vied for the Kisii Senate but lost.
Clad in a red gown with doused bold black straps and a wig, Nyachae took oath of office in the presence of Presidents Kenyatta, Salva Kiir (South Sudan), Yoweri Museveni (Uganda) and John Magufuli (Tanzania), pledging to ensure he would be fair and impartial while trying and determining issues affecting the East African Community.
Nyachae will fill up the position that was being held by Supreme Court Judge Isaac Lenaola and will be sitting alongside 14 other judges in the Arusha-based court.
The court is currently headed by Justice Emmanuel Ugirashebuja. It started running on November 30 after swearing in judges and registrars.
At CIC, Nyachae's mandate was to ensure the 2010 Constitution was smoothly implemented. His reign at the commission ended in 2015.
He was admitted to the bar in 1986 and ran a law firm, Nyachae and Ashitiva Advocates before joining the public service.
He has practiced Commercial and Property Law for more thann 26 years and also has litigated on human rights, democracy and electoral laws.
His father, veteran politician Simon Nyachae, served in various capacities in previous administrations.