Scores of villagers managed to kill the leopard using bows and arrows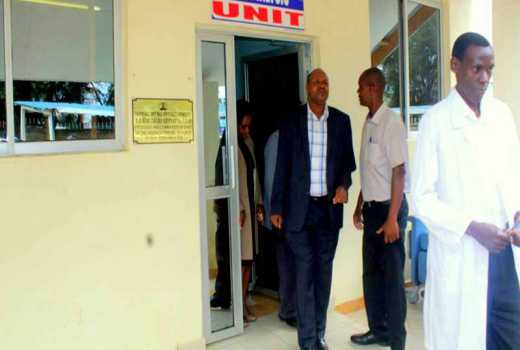 Four people are admitted at the Kericho County Hospital nursing deep wounds after they were attacked by a stray leopard.
The four patients are among the nine villagers from Waldai ward in Belgut constituency who were left bleeding profusely after the fatal encounter with the animal.
They were attacked by the leopard at 6:30PM on Friday.
Belgut Officer Commanding Police Division Gerald Mbae confirmed the incident.
He nonetheless declined to provide more information saying he was still in the process of compiling the report over the incident which left the villagers shaken.
Robert Rugut, said the leopard was first pounced Turgoito village on Thursday where it killed two goats in a homestead in the area.
He added the beast's victims were attacked after a herder spotted it as it was trying to leap on his bull on Friday evening.
"The man's distress calls attracted armed villagers to the scene and the cornered animal tried to escape by breaking through the human ring by biting and clawing them," he said.
The scores of villagers nonetheless managed to kill the leopard using bows and arrows.
Gideon Rono, claimed that the leopard's cubs had escaped to nearby thickets.
"We call upon the Kenya Wildlife Service to come to our aid and assist us to trap the cubs," he said.