Munya put on the spot as Uhuru team face queries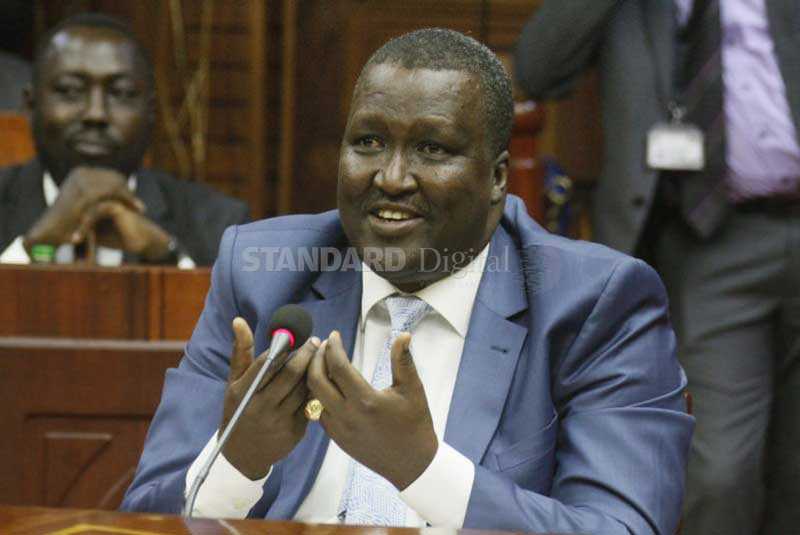 Past utterances yesterday came back to haunt a Cabinet nominee when he appeared before the parliamentary vetting team.
MPs led by National Assembly Majority leader Aden Duale put former Meru governor Peter Munya him on the spot for remarks he made when he was the chairman of the Council of Governors (CoG).
He has been nominated for the East African Community docket.
The MPs noted that in June 2016 he was quoted in the media as vowing not to honour an invitation to appear before the Senate Public Investments and Accounts Committee over audit issues.
"You were clear that you would not appear before the House team on grounds that the Senate was using it to gain political capital.
"Your resolve made some governors to totally decline to appear before the committee, which is against Article 125 of the Constitution. How sure are we that you won't take the same 'disease' to Cabinet if we approve you?" asked Duale.
In his own defence, Mr Munya clarified that he later changed his mind and complied with the summons after he got a clarification.
Unfair judgement
He said it would be unfair to judge him based on remarks he made as a CoG official.
"I appeared before the committee and I do not think I influenced anyone not to do so. Those were unprecedented times.
"That was then and the decisions made at that time were not mine but collective. What happened at that time is now water under the bridge.
"At that time, as the chair of CoG, my clients were my colleagues and the county governments.
"My main client now is the national government and I will do everything in my new role as CS, including reporting to both houses of Parliament if I am asked to so," he added."
Benjamin Washiali (Mumias East) and Jubilee Party chief whip, reminded Munya he once said he would give Deputy President William Ruto a run for his money in the next elections.
"You were quoted in a section of the media promising to give DP Ruto a run for his money in 2022, that you would run for the presidency. How will you balance your work and your ambitions to run for the top seat?" asked Washiali.
"I want to make it clear that I will be CS for the next five years. I will not play politics unless my bosses ask me to do so or give me assignments that are political in nature. I have no personal political pursuits," reiterated Munya.
Foreign Affairs Cabinet secretary nominee Monica Juma told the vetting team she hoped it would not reject her nomination again.
Appearing before the Committee on Appointments chaired by National Assembly Speaker Justin Muturi yesterday, Ms Juma said she learnt a lot from her first rejection.
She highlighted the qualities that she considered made her fit to take up the ministry from Amina Mohammed, who has been moved to the Education docket.
"It is true that my nomination was disapproved and I accepted the parameters that were used. Some of the issues were whether I was insensitive to members of Parliament.
"It is instructive to say that I continued to serve and I hope I don't face double jeopardy," she told the Jubilee-dominated team.
The National Super Alliance's 10 members skipped the sitting, leaving the field to Jubilee, which has 16 members.
In 2015, President Uhuru Kenyatta nominated Monica to be secretary to the Cabinet, but she was rejected by Parliament.
Yesterday, she told the 16-member team she had learnt a lot in the ministry while serving as principal secretary.
One of the immediate tasks she said she wanted to perform once approved was to train former Cabinet secretaries nominated as ambassadors.
Public Service, Youth and Gender Affairs CS nominee Margaret Kobia, who was the first to face the committee, defended the newly-created Cabinet Administrative Secretary position.
Prof Kobia said President Uhuru Kenyatta consulted the Public Service Commission, of which she was the chair until her nomination, before creating the posts.
Former Turkana Senator John Munyes, nominated to the Petroleum and Mining Ministry, appeared to have softened his stance on the oil revenue sharing Bill. The Bill proposed five per cent for residents, 20 per cent for the county government, and the rest for the national government.
Farida Karoney, who until her nomination as Lands CS was chief operating officer at Royal Media Services, told members her experience in media management would come in handy in her new role.