Worldwide fury over State clampdown on local media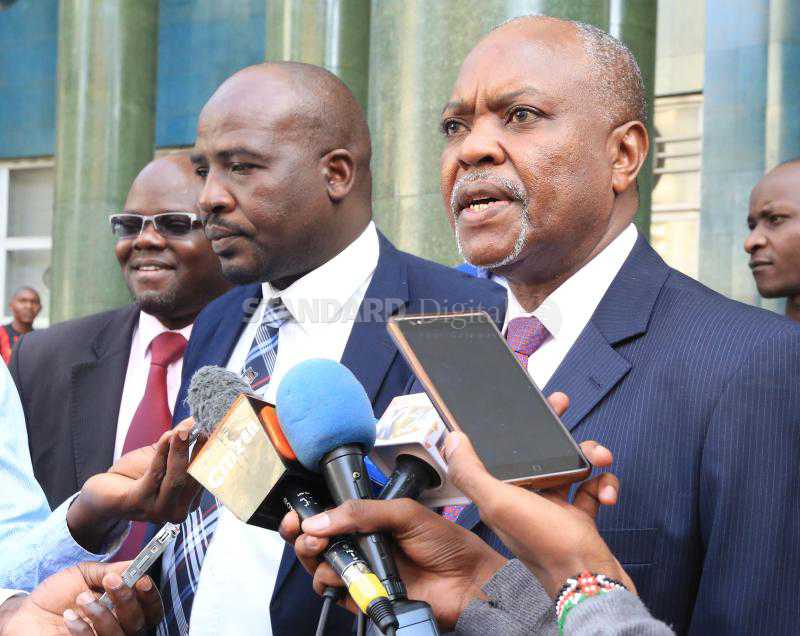 Kenya has dropped in global rankings of press freedoms over the past decade, especially under the Jubilee administration, joining autocratic countries such as Tunisia.
Independent research by World Press Freedom Index covering 180 countries, places Kenya in the bottom half where several other previously unstable countries have lifted themselves out of.
It is only Uganda that has fared worse after being leapfrogged by Kenya since 2016 while Tanzania has consistently led its neighbours on media freedom.
Tuesday's shutdown of independent TV stations and subsequent threats to journalists would only further erode the ratings currently classified as "problematic" in the 2017 World Press Freedom Index.
The same research whose criteria includes legislative and institutional environment ranked Kenya in the "fairly good" category in 2010 during the Grand Coalition regime headed by retired President Mwai Kibaki.
Uphold independence
British High Commissioner Nic Hailey joined the list of critics of the shutdown in Kenya, warning that the State should uphold the independence of the media.
Deputy President William Ruto has dismissed the inauguration of Raila Odinga as 'People's President' as political comedy, while Interior Cabinet Secretary Fred Matiang'i described it as an attempted coup on a legitimate government.
President Uhuru Kenyatta has been quiet over the shutdown, a position that could be interpreted that he supports Matiang'i's directives.
Three journalists working for the Nation Media Group that were targets for arrest over the same reasons yesterday, got court injunctions barring security officers from arresting them.
In 2017 rankings compiled by Reporters Without Borders – the equivalent of Doctors Without Borders (MSF), Kenya's standing was comparable to Kuwait and Lebanon.
Uganda fell 10 places last year alone, possibly because of among other violations, the arrest and prosecution of journalists, including KTN's Joy Doreen who was filming a military raid on a remote village.
Kenya has closely followed the path taken by Tanzania which ranked sixth in the continent in 2010 but plunged nine places to 15 under current tough-talking President Pombe Magufuli.
Last year alone, Magufuli ordered the closure of four newspapers and two radio stations - which he accused of undermining his government and supporting the opposition.
But more is expected of Kenya which has been a democracy for longer, has a relatively better educated population and is often referred to as the regional economic powerhouse.
Global agencies including Amnesty International have voiced their fears that the gains in advancing civil rights made over the years were fast disappearing and exposed citizens to abuse.
"We call on the authorities to stop intimidating the mass media and unconditionally restore the right of Kenyan citizens to a free press," Amnesty International said in a joint statement with UK's Article 19 and the Kenya National Commission on Human Rights.
Human Rights Watch- a US-based advocacy agency, has condemned the shutdown, saying that no explanation or legal justification was given to close media houses.
"Kenyan authorities have …violated the public's rights to information about important events," said Otsieno Namwaya, Africa researcher for Human Rights Watch.
Earlier, the Media Council of Kenya said media freedom in the country should be guarded jealously at all times.
"This shutdown erodes the gains so far made in developing a free and responsible media industry and should never happen in a robust democracy that Kenya boasts of," MCK said.
Local leaders who fought for an expanded democratic space told The Standard that they want Matiang'i to be prosecuted for shutting down the media.
Central Organisation of Trade Unions Secretary General Francis Atwoli termed the shutdown as retrogressive and oppressive and want Government to stop intimidating journalists.
His condemnation came even as Majority Leader Aden Duale sought to distance himself from the issue.
"What has happened squarely lies with the ICT Cabinet Secretary Joe Mucheru. He is the best suited to give feedback on this," said Mr Duale.
Unconditional reopening
Gitobu Imanyara, a human rights lawyer and former Imenti Central MP accused Matiang'i of breaking the law and want him charged.
"Matiang'i cannot and will never be able to get away with the atrocities he is committing now. Strong leadership is based on law, accountability and respects freedom of expression," said Mr Imanyara.
Dr Timothy Njoya, a retired fiery PCEA cleric, accused Government of malice and called for immediate and unconditional re-opening of the affected television stations.
"This is like extra-judicial killings where one is killed without being subjected to the law," said Dr Njoya.
Mohamed Daib, a pro-Jubilee politician at the Coast, asked the State to reopen TV stations.